Organisers reject S.Lanka Bollywood awards boycott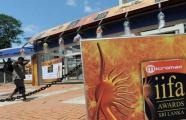 The organisers of a glitzy Bollywood awards ceremony on Wednesday dismissed calls for a boycott by southern Indians angry that it is taking place in Sri Lanka.
The film industry in the state of Tamil Nadu, which shares close cultural and religious links with minority ethnic Tamils of Sri Lanka, are staying away from the Colombo awards on Saturday.
The Tamil Nadu lobby argues that holding the Indian Film Academy (IIFA) awards in Sri Lanka amounts to an endorsement of President Mahinda Rajapakse's military strategy that crushed Tamil Tiger rebels last year.
"This is politics," Sabbas Joseph, the director of Wizcraft, which owns the IIFA brand, told reporters in Colombo.
"They (the protesters) are doing it for the media channels not for the real benefit of who they represent," Joseph said.
Troops killed the Tamil Tigers' leadership in a final offensive that also saw the killing of at least 7,000 Tamil civilians, according to the United Nations which has called for a war crimes investigation.
The IIFA awards are the first celebrity event in Sri Lanka since the end of 37 years of separatist conflict. Sri Lanka is hoping to improve its international image and revive its war-battered tourist industry.
"Our position is IIFA is coming to Sri Lanka to build bridges. It's about community engagement and it's about building a way forward. All are invited to participate in this journey," Joseph said.
Top Bollywood stars like IIFA's brand ambassador Amitabh Bachchan and Shah Rukh Khan have yet to confirm their participation. Both have been under pressure to stay away.
"Both are busy with commitments. Shah Rukh is also making an effort to come. He is in the middle of making a movie," Joseph said.
Bachchan's actor son Abhishek and daughter-in-law Aishwarya Rai — Bollywood's leading couple — have not confirmed their participation either.
Some second tier stars, including Vivek Oberoi, Lara Datta, Ritesh Deshmuk, Biphasha Basu, Dia Mirza, Sanjay Dutt, Manish Malhotra have already arrived for the three-day event that opens on Thursday.
(For updates you can share with your friends, follow TNN on Facebook, Twitter and Google+)