The Stakeout that Wasn't: US Asked for TV Camera 12 Hours After Flotilla Meeting, Then Decided Nothing to be Said
Back at the UN Security Council less than 12 hours after their 2 a.m. President Statement on the assault on the flotilla to Gaza, at 12:30 p.m. a UN Television camera was quietly set up. Inner City Press was told that the United States requested the camera, "sometime between 12 and 3 but leave the lights off at first."
  Could it be for Permanent Representative Susan Rice, who was not present for Memorial Day's 13 hour consultation, with her interpretation of the late night PRST on Gaza? Inner City Press asked a number of Ambassadors, who said they would look into it.
Inner City Press at 2 a.m. had asked outgoing Deputy Permanent Representative Alejandro Wolff if he agreed with Council President Claude Heller's interpretation, that Secretary General Ban Ki-moon will be in charge of investigating the assault on the flotilla. Wolff said, "we believe the Israelis can do a full investigation." See transcript below.
At Tuesday's noon briefing, while declining to answer more than a dozen questions including four from Inner City Press, Deputy Spokesperson Marie Okabe said that Ban is consulting by phone, after due to mechanical failure he was unable to attend Nicolas Sarkozy France – Africa summit in Nice. But will he start up the investigation? Perhaps that was Tuesday's American topic, one of the few who stumbled on the stealth stakeout speculated.
With the camera set up but the lights diplomatically off, various Ambassadors filed into the Council to meet with Claude Heller about June's program of work. Inner City Press asked a number of them if they knew about the American's upcoming stakeout statement. They did not, even among the P-5. As we said last night, it was P-1 Plus 1, Turkey.
  And then at 1 p.m., the UN TV camera was pulled away.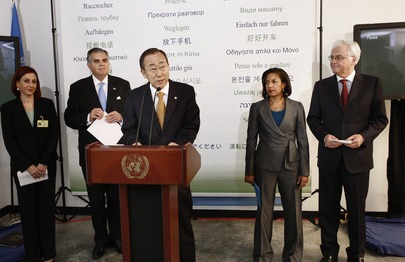 On UN TV, Susan Rice and UN's Ban: re-run, June 1 not shown
  One wag asked, "Cat got your tongue?" Inner City Press inquired, and was told that "the U.S. changed its mind." Another wag wondered, could Ms. Okabe's non-answers at the day's noon briefing have obviated any need for a U.S. statement?
Regarding the ships still on the way to Gaza, Inner City Press asked Ms. Okabe if the UN could confirm that its former official Denis Halliday is on the ship Rachel Corrie (along with Nobel laureate Maireád Corrigan-Maguire).  Ms. Okabe said the UN could not confirm. What can the UN do? Watch this site.
From the US Mission transcript:
Remarks by Ambassador Alejandro Wolff, Deputy Permanent Representative to the United Nations, at a Security Council Stakeout, June 1, 2010
Amb. Wolff: Good morning thanks for staying as long, a good 13 hours, happy June. <inaudible> …we adopted a presidential statement today on the incident that took place on the Eastern Mediterranean yesterday. The negotiations over that took place after the meeting that the Council had where most of the members spoke. We've had a long drawn out discussion and the fruits of our labors are before you. So I'm happy to take any questions.
Inner City Press: You just heard what the President of the Council said, he said a number of things. He said that the investig-he believes that the word impartial means independent, ie, not by Israel in terms of the investigation. And he believes that condemning the acts that resulted in deaths is a condemnation of the Israeli military force primarily. Is that your understanding of the text that was adopted?
Amb. Wolff: No that's not our understanding. If you read the text carefully, it makes clear what it means and what it doesn't mean. We are convinced and support an Israeli investigation as I called for in my statement earlier and have every confidence that Israel can conduct a credible and impartial, transparent, prompt investigation internally.
Inner City Press: He [Heller] just said because the text refers to the Secretary-General's comments, that this means the Secretary-General will be appointing the investigators.
Amb. Wolff: Again I think there's no reason to conclude that. The Secretary-General called for a full investigation. And we think the Israelis are capable of doing a full investigation…
Inner City Press: Would it be fair to say, some would say that this has been drafted in sort of a vague way so that each side can read it however they want. The President of the Security Council has just given a reading that is quite different than yours. Was that, is this the only way that we can reach compromises to have it so that each side can see it as it wants it? If the Secretary-General is to name-names investigators will the U.S. oppose it? I mean, he seems to expect that that will happen.
(For updates you can share with your friends, follow TNN on Facebook, Twitter and Google+)