Journalist Roopan remembered in Jaffna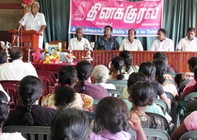 Media associations in Jaffna peninsula held an event Saturday in remembrance of Selvaratnam Roopan, sub-editor of 'Yarl Thinakrual' Tamil daily, also known as 'Sakthi Thasan' who passed away due to illness in Jaffna Teaching Hospital 25 April, in Jaffna Multi Purpose Society Hall. General Manager of Yarl Thinakural, A. S. Nadarajan presided at the event attended by Professor. V. P. Sivananthan, Dr. M. Jamunanantha and many media persons of Jaffna peninsula. 32-year-old Roopan had been in the forefront in rescuing thousands of people caught in the clashes in Ma'ndaitheevu in the islets of Jaffna in 2006 and in admitting the injured among them in the hospitals in Jaffna.
The even began with the offering of flowers to Roopan's photgraph with more than a hundred people participating.
Roopan had rendered great service by writing articles in Yarl Thinakural creating political awareness among the people of Jaffna peninsula under his pseudonym 'Sakthi Thaasan', speakers at the event said.
He was one of the editorial team of Yarl Thinakural which worked hard in bringing out the daily without delay braving the risks of working during continuously imposed curfew hours.
Roopan was well known for his aredent support and dedication for the cause of Tamil Nation.
He did not flinch from reporting the military harassment, killings, abductions which continued to take place in Jaffna peninsula particularly during the period between 2000 to 2010.
Roopan was a native of Central Araali in Vaddukkoadai and had served in Yarl Thinakural for a long time as its sub-editor.
(For updates you can share with your friends, follow TNN on Facebook, Twitter and Google+)