Sri Lanka's war, a corporate war, says Arundhati Roy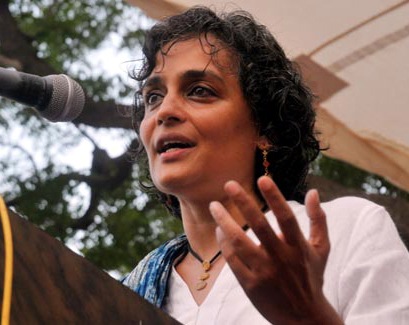 The war in Sri Lanka was not just a war of the Sri Lankans against the Tamil people, according to writer-activist Arundhati Roy. "That was a corporate war. All the large Indian companies are now heading to Sri Lanka to make more money," Roy said on Friday speaking at a Chennai convention on attacks by India against tribal resistance movements, Times of India said. Roy has previously voiced her opposition openly on Sri Lanka's war against Tamils and had condemned India's silence on the humanitarian tragedy in Sri Lanka, calling the war "a racist war on Tamils."
Ms. Roy also accused the Tamil Nadu political parties for their silence.
"The political parties of Tamil Nadu were the only ones who could have stopped the genocide in Sri Lanka, but they chose to stand by silently. A similar thing is happening in central India where tribals are resisting the takeover of natural resources by corporates," Times of India said quoting Roy.
"Given the scale of what is happening in Sri Lanka, the silence is inexcusable. More so because of the Indian government's long history of irresponsible dabbling in the conflict, first taking one side and then the other. Several of us who should have spoken out much earlier, have not done so, simply because of a lack of information about the war," Arundhati Roy wrote in a Boston Globe editorial when the slaughter against Tamils was reaching unprecedented levels in March 2009.
Pointing to the complicity of other countries in assisting Sri Lanka in the conduct of its war where more than 40,000 civilians were allegedly killed in the first five months of 2009, Roy asked: "[t]here are unconfirmed reports that the Indian government is lending material and logistical support to the Sri Lankan government. If this is true, it is outrageous. What about the governments of other countries? Pakistan? China? What are they doing to help or harm the situation?"
Arundhati Roy was born 24 November 1961. She is an Indian writer and an activist who focuses on issues related to social justice and economic inequality. She won the Booker Prize in 1997 for her novel, The God of Small Things. For her work as an activist she received the Cultural Freedom Prize awarded by the Lannan Foundation in 2002.
(For updates you can share with your friends, follow TNN on Facebook, Twitter and Google+)