Chidambaram seeks Karunanidhi's views on rehabilitation of Sri Lankan Tamils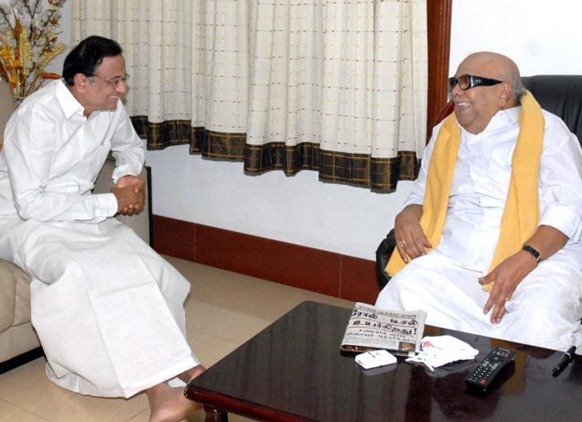 Union Home Minister P. Chidambaram called on Chief Minister M. Karunanidhi at his CIT Colony residence on Sunday and sought his views on the Sri Lankan Tamils' rehabilitation issue ahead of the visit of Sri Lankan President Mahinda Rajapaksa to India on June 8.
Mr. Chidambaram was with Mr. Karunanidhi for about half-an-hour. Member of Parliament Kanimozhi was present.
Asked if the purpose of the meeting was to discuss Mr. Rajapaksa's visit, Mr. Chidambaram told The Hindu: "Yes, we discussed Mr. Rajapaksa's visit to India. Mr. Karunanidhi has given me a list of points to be taken up with Mr. Rajapaksa. I will convey the message to Prime Minister Manmohan Singh."
Emphasising that the promise of rehabilitating the internally displaced Tamils had not been fulfilled, a delegation of MPs from Tamil Nadu will meet Mr. Rajapaksa in New Delhi and ask him to take necessary steps. On Sunday Mr. Karunanidhi sent Dravida Munnetra Kazhagam Parliamentary Party leader T.R. Baalu, who will be part of the delegation, to New Delhi, a press release from the party said.
Some of the MPs who will be in the delegation had been to Sri Lanka on the invitation of the Sri Lankan President. They will explain the lack of progress on the ground on crucial rehabilitation issues and will impress upon him the need for quicker on-the-ground results, DMK sources said.
Meanwhile, Mr. Karunanidhi has asked Dr. Singh to take up the "need and necessity for the earliest rehabilitation and reconstruction measures" for internally displaced Tamils in Sri Lanka at his forthcoming meeting with Mr. Rajapaksa.
In a letter to the Prime Minister, Mr. Karunanidhi pointed out that the Government of Sri Lanka had promised to rehabilitate all Tamils in transit camps before December 2009.
"Now it has been brought to my notice that around 80,000 Tamils are still living in transit camps awaiting rehabilitation measures by the government. Further, those families that have been rehabilitated and settled elsewhere need to be provided with economic development and justice-based reconciliation to work towards a permanent political settlement," Mr. Karunanidhi said in his letter.
(For updates you can share with your friends, follow TNN on Facebook, Twitter and Google+)