Sri Lanka says could hang former army chief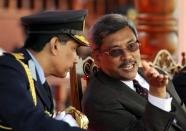 Sri Lanka's top defence official has threatened to hang the country's former army chief if he cooperates with any investigation into war crimes during the civil war that ended one year ago.
Defence secretary Gotabhaya Rajapakse told the BBC's Hardtalk programme that Sarath Fonseka, who is currently being court-martialled on separate charges, would be executed as a traitor if he tried to expose alleged war crimes.
Fonseka fell out with President Mahinda Rajapakse and his brother Gotabhaya after the Tamil Tiger guerrillas were defeated in May last year.
The United Nations estimated that 7,000 civilians were killed in fighting in the early months of last year as government troops overwhelmed the rebels and ended the decades-long separatist campaign.
The London-based Guardian quoted Gotabhaya Rajapakse speaking in a BBC interview to be broadcast later this week.
The newspaper report, co-authored by the BBC's Stephen Sackur, who conducted the interview, said Rajapakse responded angrily to the prospect of Fonseka giving evidence at any international war crimes probe.
"He can't do that. He was the commander," Rajapakse said. "That's a treason. We will hang him if he does that. I'm telling you. How can he betray the country? He is a liar."
Fonseka quit the army in November and unsuccessfully ran for the presidency and was then arrested on charges of dabbling in politics and corrupt deals while in uniform.
Rajapakse repeated a promise by the president that the authorities would not allow any international investigation into the conduct of the armed forces.
"We are an independent country, we have the ability to investigate all these things," he said.
Fonseka, who is now a member of parliament, has called for an investigation and offered to cooperate.
"I will not protect anyone, from the very top to the bottom," he vowed last month.
(For updates you can share with your friends, follow TNN on Facebook, Twitter and Google+)