Sri Lanka maintains defence spending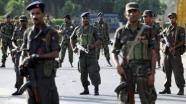 Sri Lanka's government on Tuesday proposed maintaining defence spending at nearly the same level as in the final year of its massive military offensive against the Tamil Tiger separatists.
Figures presented to parliament showed that the government had allocated 201 billion rupees (1.8 billion dollars) on defence for 2010, down marginally from an estimated 210 billion spent in 2009.
Defence spending in 2008 was 204 billion rupees.
Government troops crushed the Tamil rebels in May last year, ending what had become Asia's longest-running ethnic conflict, which claimed up to 100,000 lives since the war began in 1972.
Sri Lanka's key aid donors have asked the government to prune the size of its budget to sustain economic stability as the island emerges from nearly four decades of ethnic strife.
The highest allocation within the defence ministry budget goes to the army, which will absorb just over half of the entire expenditure to maintain its 200,000 personnel.
President Mahinda Rajapakse, who is also finance minister, is due to unveil the full 2010 budget on June 29.
(For updates you can share with your friends, follow TNN on Facebook, Twitter and Google+)