Sri Lanka PM says Tamil rebels re-emerging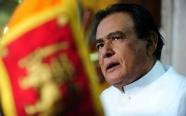 Tamil Tiger rebels are re-emerging a year after their defeat, Sri Lanka's prime minister said Tuesday, despite the once-powerful guerrilla force launching no attacks.
D. M. Jayaratne told parliament that remnants of the separatist Liberation Tigers of Tamil Eelam (LTTE) were planning a comeback with financial backing from Tamils abroad.
"There are hardcore Tigers who are still mingling among civilians," Jayaratne said. "During the month of May alone we have arrested 77 hardcore Tigers who are believed to have been directly involved in terror activities."
He said intelligence agencies reported that Tigers who escaped the military onslaught last year were collecting weapons they had stashed away to resume their struggle.
The Tigers have launched no attacks since being defeated in May 2009, but the government maintains tough anti-terror laws which are extended every month by parliament.
The opposition accuses the government of using the emergency laws to stifle political dissent.
Last month, the prime minister urged Western nations to crack down on Tamils living abroad who hope to revive the armed struggle that cost the lives of up to 100,000 people between 1972 and May last year.
Sri Lanka's government on Tuesday proposed maintaining defence spending at nearly the same level as in the final year of its massive military offensive against the rebels.
Figures presented to parliament showed that the government had allocated 201 billion rupees (1.8 billion dollars) on defence for 2010, down marginally from an estimated 210 billion spent in 2009.
Defence spending in 2008 was 204 billion rupees.
Sri Lanka's key aid donors have asked the government to prune the size of its budget to sustain economic stability as the island emerges from nearly four decades of ethnic strife.
AFP: Sri Lanka PM says Tamil rebels re-emerging
(For updates you can share with your friends, follow TNN on Facebook, Twitter and Google+)