While on Gaza UN's Ban Speaks of Terms of Reference, 3 Month Delay on Sri Lanka Panel, Kohona in Israel Probe
Six days after Israel killed nine people on a ship headed to Gaza, the UN put out a note to the Press that Secretary General Ban Ki-moon was conferring with the prime ministers of Israel and Turkey "to ensure that any investigation has the full cooperation of the countries most closely concerned. He is also developing possible terms of reference and logistical arrangements for such an effort."
What is Ban Ki-moon's recent track record on developing such terms of reference? It has now been over three months since Ban announced he would name a panel of experts about possible war crimes during the final phase of the conflict in Sri Lanka last year, in which tens of thousands of civilians were killed.
And yet,on Sri Lanka Ban Ki-moon has yet to name a single member of the promised group of experts, nor to announce the terms of reference.
  When asked by Inner City Press how the allegations of the International Crisis Group about the UN's own role in pulling out of civilians areas, ineffectually seeking a ceasefire and funding internment camps would be investigated, as well as issued concerning his chief of staff Vijay Nambiar's role in convincing to surrender rebel leaders who were then killed, Ban said he rejects all such allegations.
Nambiar has said the assurances of safety were provided to him by Sri Lanka's President Mahinda Rajapaksa, his brother Gotabaya Rajapaksa and current Ambassador to the UN Palitha Kohona. (Kohona has denied the timing to Inner City Press.)
Meanwhile, the UN has named Kohona to lead a separate investigation of Israel's treatment of Palestinians. Only at the UN.
  Kohona will be out of New York on that ironic work from June 8 through 19. Given that Ban and Nambiar have given Kohona full access to the delayed process at every stage, does this mean that even after three months, Ban will wait at least another 12 days?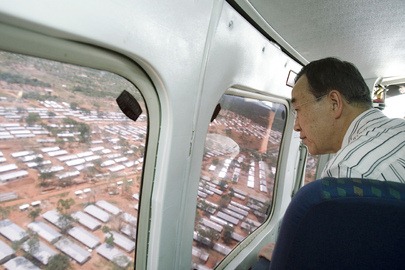 UN's Ban views internment camps May 09- Sri Lanka, Gaza not shown
Footnote: Inner City Press on June 4 asked the UN's top humanitarian about ICG's charges, the pull out from Kilinochchi, the funding of internment camps, as well as OCHA's having stopped reporting the numbers of civilians killed following government complaints about the leaking of these figures to Inner City Press.
(For updates you can share with your friends, follow TNN on Facebook, Twitter and Google+)