Tamil Nadu delegation not satisfied after meeting Rajapaksa in New Delhi
A delegation of 21 MPs from Tamil Nadu led by T.R. Baalu failed to secure concrete assurances on political settlement, the release of Prisoners of War or resettlement of Tamils. T.R. Baalu said in a televised comment in Sun News that there was some progress, but added he was not satisfied with the output of the meeting. The Sri Lankan delegation headed by Mahinda Rajapaksa and the Indian delegation led by Dr. Manmohan Singh have inked seven agreements, which included bilateral counter-insurgency and corporate deals.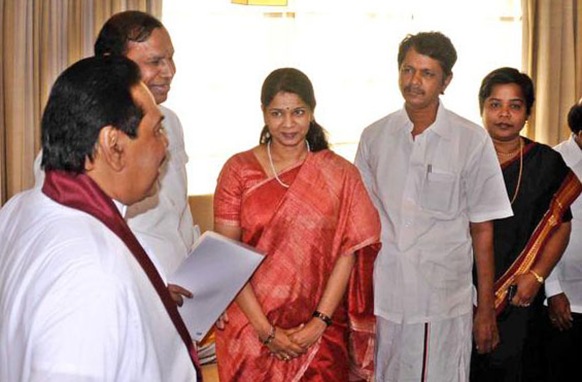 Douglas Devananda, a cabinet minister in Rajapaksa government, accompanied Sri Lankan president during the meeting with Tamil Nadu delegation.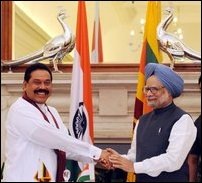 Though the Tamil issue failed to make an impact in the Lok Sabha elections last year, Karunanidhi is not taking chances in the run-up to the state polls due in May next year, Hindustan Times reported observing that Mr. Karunanidhi has been blamed by the opposition in Tamil Nadu for remaining silent when the Tamils were subject to "humiliating war".
Meanwhile, the IANS reported, quoting Indian Foreign Secretary Nirupama Rao, that the Indian Prime Minister had called for meaningful devolution 'building on the13th Amendment' as a measure for reconciliation, while entertaining the Sri Lankan President in New Delhi.
India's Congress party leader Ms. Sonia Gandhi also met the Sri Lankan president at Maurya Hotel in New Delhi.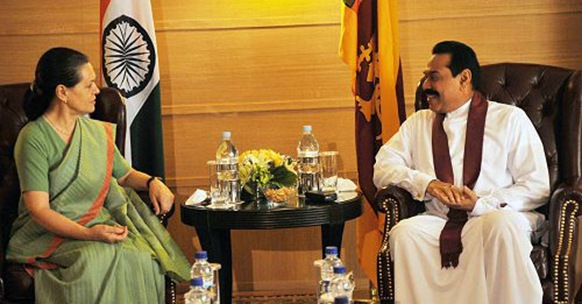 The Indian President Mrs. Pratibha Devisingh Patil was scheduled to host a banquet in the honouring the visiting Sri Lankan President on Tuesday evening. Mr. Rajapaksa will be visiting Chandigarh and Shimla on Thursday and Friday.
Media Unit of the Sri Lankan president said both the countries entered seven agreements covering spheres of legal, women's affairs, culture, power and electricity in the presence of the heads of both the countries. There was no mention about the CEPA agreement.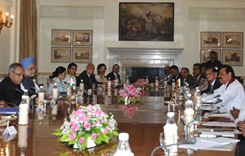 Following are the extracts from an official report from Sri Lankan President's media unit:
Renewal of Memorandum of Understanding on SDP Schemes between India and Sri Lanka was signed by the Minister of External Affairs Prof. G. L. Peiris and Indian Minister of External Affairs Mr. S. M. Krishna.
The second and third agreements signed by Secretary to the President Mr. Lalith Weeratunga and Secretary of Home Affairs Mr. G. K. Pillai on behalf of both the countries were on Transfer of Sentenced Prisoners and on Mutual Legal Assistance on Criminal Matters.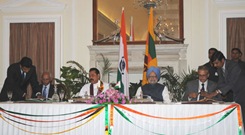 The Memorandum of Understandings on Setting up of a Women's Trade Facilitation Centre and Community Learning Centre, Renewal of Cultural Exchange Programmes and Interconnection of Electricity Grids were signed by High Commissioner of Sri Lanka to India Mr. Prasad Kariyawasam and Indian Foreign Secretary Smt. Nirupama Rao.
The Memorandum of Understanding on Talaimannar-Madhu Railway Line was signed by General Manager Sri Lanka Railways Mr. P. P. Wijesekara and Managing Director IRCON Mr. Mohan Tiwari.
(For updates you can share with your friends, follow TNN on Facebook, Twitter and Google+)