US ambassador to Sri Lanka visits Jaffna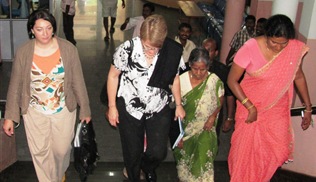 Ms. Patricia A. Butenis, Ambassador to Sri Lanka and Maldives arrived in Jaffna Wednesday on a two-day visit where she first went to the 'Periya Pa'l'livaasal' (Big Mosque) of the Muslim community in Jaffna town, sources in Jaffna said. Meanwhile, the Intelligence wing men of Sri Lanka Army (SLA) were active in covering all her visits collecting particulars of the places she went, persons she met and also the subjects she discussed, the sources added.
Following the visit to the mosque the Ambassador met Jaffna Government Agent K. Ganesh and key government officials at Jaffna Secretariat.
Ms. Patricia A. Butenis visited Jaffna Bishop House Wednesday evening where she spoke to the religious dignitaries of the peninsula led by Rt. Rev. Thomas Saundaranayagam, the head of the Committee for Peace and Goodwill (CPG).
The participants in the above meeting spoke freely to the US Ambassador expressing their concern over the unfulfilled pledges of Rajapakse regime in several issues including the resettlement of uprooted civilians of Vanni in their own places.
They also pointed the need to find a political solution for the ethnic issue as well as attending to the basic needs of the Tamils.
The SLA Intelligence Wing men too were present in the above meeting along with the journalists covering the meeting.
Ms. Patricia is expected to take part in cultural event to be held Thursday before leaving to Colombo.
Her visit and activities were observed with interest by many social activists and political personalities in Jaffna.
(For updates you can share with your friends, follow TNN on Facebook, Twitter and Google+)