China, India, USA work to increase influence in Jaffna
China, India and the United States of America are gradually strengthening their presence Jaffna. India and China have openly sought to influence the post-war 'development', which is unilaterally undertaken under the supervision of Basil Rajapaksa, the brother of Sri Lankan President Mahinda Rajapaksa. Tamil circles in Jaffna commenting on the corporate race by the powers said articulate sections of Tamils in Tamil Nadu and diaspora Tamils should engage with the powers in reflecting the interests of the people on the ground.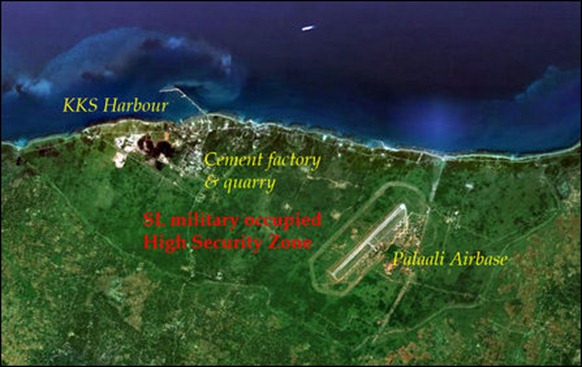 The Sri Lankan military occupied High Security Zone (HSZ) along the northern coast of Jaffna peninsula, that evicted a large number of Tamil civilians from their homes for two decades now [Satellite image courtesy: Google Earth]
Government owned and private corporates of India have recently secured 'development' contracts including reconstruction of Railway lines, renovate Kaangkeasanthu'rai (KKS) Cement factory, reconstruction of Palaali Airport of the largest Sri Lankan military base in the north and the KKS Harbour, all falling within the military High Security Zone.
Meanwhile, southern Sinhalese labourers are engaged in excavating limestone inside the HSZ, which is threatening the entire groundwater salinity of the peninsula.
During his recent visit to India, Mr. Mahinda Rajapaksa signed a number of agreements, also including the 'development' exploitation of KKS Cement factory and the reconstruction of communication facilities attached to the High Security Zones that have been denied access to the people, who have been uprooted from their homes. Further, large tracts of agricultural land also come under the HSZ.
Achchuveali Industrial Estate, which had ceased to operate will also be revived by India.
China, which has already secured the contracts for constructing five principal roads in Jaffna peninsula has its surveyors working along with the surveyors of Sri Lanka Survey Department. A Chinese firm, Northern Power, is operating the Cu'n'naakam Power Station, generating electricity to Jaffna.
Meanwhile, USA has taken a move to opening American Corner in Jaffna city, linking it to the American Center in Colombo. India has already established a visa bureau in Jaffna.
The US Ambassador to Sri Lanka who was on a visit to Jaffna has encouraged the process of opening of the American Corner.
Earlier, a similar move to launch a US center attached to Jaffna Public Library was given up as the then Jaffna Municipal Council administration had refused to provide accommodation due to alleged Indian influence.
Colombo's agenda being implemented in Tamil homeland also aims to strengthen southern inroads into Jaffna peninsula. Political leaders and articulate sections of Tamils abroad should therefore address the powers and demand that Eezham Tamils should be allowed to conceive their own development, Tamil academic circles in Jaffna said.
(For updates you can share with your friends, follow TNN on Facebook, Twitter and Google+)