On World Cup, UN Drop Ball as Street Kids Rounded up, Lemke Moonlights, German Haus
In the run up to this month's World Cup, the UN system tried to make itself relevant, promising to protect children throughout South Africa, to burnish the image of the Continent, to have wealth and tourist dollars move to lower income zones.
Even before the first game on June 11, Inner City Press asked UNICEF about reports of the confinement of street children in Durban to quasi Bantustaans, help centers with out services on the outskirts of the city. UNICEF's representative promised to look into it and revert, but no answer ever came.
The UN's grandly titled (but part time) special envoy on sports, Willi Lemke, chided the press for reporting any negative aspects of the Cup. Now, with stadium workers protesting being underpaid being met with concussion grenades and tear gas, where is Mr. Lemke?
When Lemke took the UN job, Inner City Press asked him when he would quit his Werder Bremen posts in Germany. Now, when Inner City Press asked him to explain his continued moonlighting on the Werder Bremen board, Lemke stuttered that it is only part time. How much time? Four day a week, he said — quickly changing that to four days a month, or even a year. Which is it? Could it be a conflict of interest?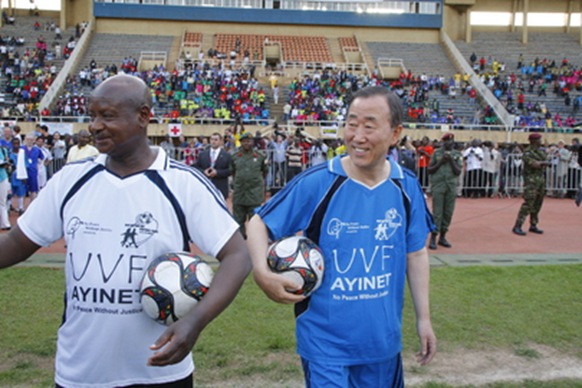 UN's Ban and Museveni in Uganda, Durban roundup not shown
On June 14, Inner City Press went to watch the morning's game(s) at the German Mission to the UN on First Avenue. The Mission had sent out an invitation on June 10, that all games in the first round would be shown in their lobby, with food and drink. But as Japan – Cameroon began on Monday morning, a lone Mission staffer sat in front of a hardly big screen TV. Maybe later. Watch this site.
(For updates you can share with your friends, follow TNN on Facebook, Twitter and Google+)