UN ignores Sri Lanka's protest over war crimes panel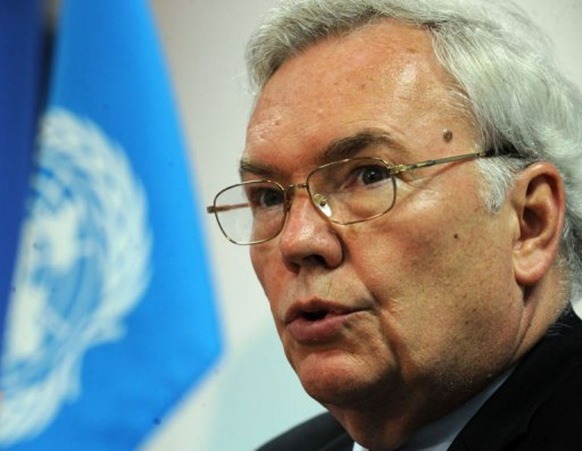 The United Nations will set up a panel to probe war crimes in Sri Lanka despite repeated protests from the island's hawkish government, a top UN envoy announced in Colombo on Thursday.
Lynn Pascoe, the UN under secretary-general for political affairs, said Ban Ki-moon will soon name the panel which will guide him on the issue of alleged war crimes committed in Sri Lanka last year.
"The secretary general intends to soon establish a panel of experts that will advise him on international standards and comparative experiences with accountability," Pascoe told reporters at the end of his three-day visit.
The UN estimates that at least 7,000 Tamil civilians perished in the final four months of fighting. Security forces wiped out the top Tamil Tiger leadership, ending 37 years of ethnic bloodshed on May 18 last year.
"I don't want to pre-empt and give you details of the panel's members or its broad mandate. They will be announced early next week," Pascoe said.
His remarks came despite objections from Colombo to Ban. Sri Lanka insists that government forces had not killed any civilians while battling Tiger rebels and hence there was no need for a probe.
Pascoe told Colombo that there should be accountability for the allegations of humanitarian and human rights violations. The UN says up to 100,000 people died in 37 years of fighting.
"Responsibility for carrying out a credible process that meets international standards rests first and foremost with the authorities of Sri Lanka," he said adding that the UN will closely follow Colombo's own reconciliation bid.
Sri Lanka has named a "lessons learnt" panel to study issues that led to conflict, but it has no mandate to investigate war crimes.
Pascoe said he was assured in talks with President Mahinda Rajapakse and other officials that the island's own reconciliation panel will be "credible" and "accountable".
"We will be interested in its progress," Pascoe said.
(For updates you can share with your friends, follow TNN on Facebook, Twitter and Google+)