S.Lanka marks Tiger defeat as war crimes pressure mounts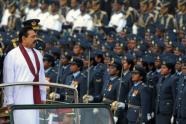 Sri Lanka staged a delayed military parade Friday to mark the first anniversary of the end of its 37-year civil war, with pressure mounting for a probe into alleged crimes during the conflict.
President Mahinda Rajapakse took the salute at the "Victory Parade" attended by thousands of troops drawn from units that led the final assault against Tamil Tigers whose leadership was killed on May 18 last year.
The military show was originally due to be held last month, but heavy rains forced its postponement to Friday, which was declared a public holiday.
Rajapakse used the occasion to slam foreign governments pressing for war crimes probes and defended his forces who continue to be dogged by allegations that they killed civilians indiscriminately and executed those surrendering.
"Our troops carried a gun in one hand and a copy of the human rights charter in the other," Rajapakse said. "Our guns were not fired at a single civilian."
He criticised those pressing for a probe and said individuals raising human rights issues were responsible for a "great betrayal" of the nation.
His remarks were a clear reference to his former army chief Sarath Fonseka who now regarded as an enemy of the regime after unsuccessfully challenging Rajapakse in elections and fuelling the row about war crimes.
"It is an insult to the heroic troops who shed their blood and gave their lives for the country in this great humanitarian operation to say that they shot at terrorist leaders who came carrying white flags," Rajapakse said.
Fonseka has said that Rajapakse's brother Gotabhaya Rajapakse, who is the top bureaucrat running the defence ministry, had ordered the execution of surrendering rebels, a charge denied by the government.
The United States has led international calls to probe allegations that thousands of civilians were killed in the final months of fighting. The UN has estimated at least 7,000 civilians perished in the first four months of 2009.
Rajapakse's insistence Friday that his forces were not responsible for any rights abuses came as the UN announced it would form a war crimes panel to advise Secretary-General Ban Ki-moon on his approach to Sri Lanka.
"The secretary general intends to soon establish a panel of experts that will advise him on international standards and comparative experiences with accountability," Lynn Pascoe, the UN under secretary-general for political affairs, told reporters in Colombo Thursday.
Rajapakse also indirectly attacked Western nations insisting on human rights accountability after the crushing of the Tigers.
"It is time for the countries facing attacks from terrorism to look back and see where they had gone wrong, whereas Sri Lanka has succeeded," Rajapakse said.
"It is a grave error of judgment to think that while being opposed to terrorism targeting you, to believe that terrorism that is no threat to you is good. The world has so far trod on this wrong path.
"Terrorism remains unvanquished because of this incorrect thinking. The countries that show sympathy towards terrorism and separatism will be the victims of terrorism. This is the lesson of history."
(For updates you can share with your friends, follow TNN on Facebook, Twitter and Google+)