Eezham Tamils in Canada to form country council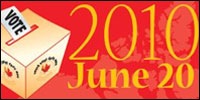 Followed by Norway, Switzerland, Italy and France, Eezham Tamils in Canada are going to elect representatives on Sunday for their Country Council named National Council of Canadian Tamils (NCCT). The NCCT will be a grass-root organisation composed of democratically elected Canadian Tamils focused on strengthening the Tamil community within the Canada. The bicameral national assembly of 27 Council Members consists of 22 elected members on 3-year-term and 5 elected members by Tamil organisations on 1-year-term. In addition, 6 regional councils in areas where a high population of Tamils live, will constitute the grass-root bodies of the NCCT.
85 Tamil organisations in Canada, including the elected representatives of the Transnational Government of Tamil Eelam (TGTE), have endorsed the NCCT.
According to the reports from Toronto, real competition is taking place for the slots allocated for the youth as four candidates are competing for the two seats at national level.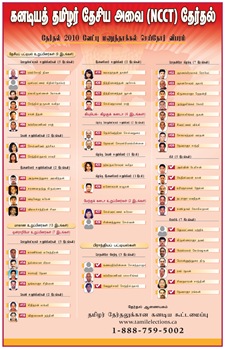 Krishna Saravanamuththu (Candidate no 10) and Siva Vimalachandran (Candidate no 12) have teamed up themselves in a six-member youth coalition, which they call as Team Unity and Youth Alliance for Tamil Sovereignty. The other two, Aravinthan Arumaithurai (Candidate no 9) and Suren Vadivelu (Candidate no 11) are also teamed up targeting the two slots allocated for the youth.
Krisna Saravanamuttu is the president of York Federation Students at York University. This university has the largest number of Canadian Tamil students.
York University Tamil Students' Association (YUTSA) in a statement issued 3 days ago said: "We are proud to announce that three of our very own YUTSA member/York University students will be taking part in the elections. Krisna Saravanamuttu, Siva Vimalachandran, and Darshika Selvasivam, known as Team Unity. Nancy Kamalanathan and Ashok Nithiananthan are also active YUTSA members and they too are running for the position of Ontario Youth member at large, and we are proud to endorse our active YUTSA members who will take part in this momentous occasion."
12 candidates are competing for 9 positions as National Executive Directors, 16 candidates have come forward to compete for 13 posts as Provincial Directors and 23 are competing for 22 positions of 6 regional councils.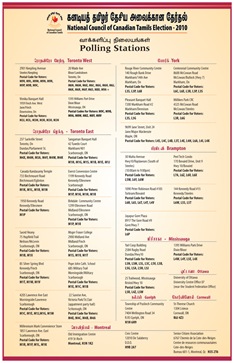 The election is scheduled to take place between 9:09 a.m. and 9:00 p.m. Sunday, June 20. At least 34 polling stations, organised based on the first three characters of the postal code, have been announced by Tamil Elections Canada, an independent committee that conducted the referendum on the main principle of Vaddukkoaddai Resolution.
"The recent history has taught the Canadian Tamil community that lack of effective strength in political, social and economic sectors made the legitimate requests by Canadian Tamils ineffective in producing a genuine Canadian humanitarian effort to protect the interests of their relatives in the Tamil homeland," the organisers of the initiative said adding that the NCCT move encourages and promotes women and youth to hold membership in the council to have equal and fair representation.
13 Provincial Directors and 9 National Executive Directors (5 general candidates, 2 women candidates and 2 youth candidates) make up the National Assembly of the Elected Peoples Council, one of the bicameral assembly. The elected representatives by the organisations make up the other assembly.
Out of 13 Provincial Directors, 7 are elected in Ontario, 4 in Quebec and Eastern Canada and 2 in Western Canada. There are allocated slots for youth and women candidates in all the proinvices exept in the Western Canada where only two seats are allocated.
In addition, election also takes place to elect 6 regional councils for regions Toronto East (7 members), Toronto West (3 members), Peel (5 candidates), York (7 candidates), Durham (3 candidates) and Montreal (5 candidates). Other regional councils will be established in the future. Regional Councils will strengthen the NCCT at the grass-root level.
Based on community feedback a draft constitution has been created and circulated amongst Canadian-Tamils through media and community meetings in an effort to cover key areas including accountability of members and operations of the NCCT.
The NCCT will also support and strengthen the function of the Transnational Government of Tamil Eelam (TGTE) and Global Tamil Forum (GTF) from within Canada.
Following is the second part of the video interview conducted by TVI Cross Roads on NCCT elections in Canada:
An introduction by Tamil Elections Canada on NCCT follows:
(For updates you can share with your friends, follow TNN on Facebook, Twitter and Google+)