On War Crimes, US Rapp Says Sri Lanka Panel Doesn't Meet Standards, Ban Names Next Week
Sri Lanka's Rajapaksa administration insists that its panel on "Lessons Learned" is a sufficient response to reports of tens of thousands of civilians killed in the final stage of the conflict last year. On June 18, Inner City Press asked Stephen Rapp, US ambassador at large for war crimes issues, if "Lessons Learned" are enough.
"Obviously, what's been announced to date has not met the standard," Rapp said. "They're telling use it does have that capacity, to investigate these cases, to follow up and call witnesses. We're hearing it, but we're not seeing it."
Rapp, whom Inner City Press had previously questioned as prosecutor of the Special Court for Sierra Leone, said his office will be filing another report with the U.S. Congress by the end of July, on "what has been done." He said, "they will not have concluded their investigation, but we can talk about the standards."
Surprisingly, while Rapp responded to Inner City Press that he had seen the BBC Hard Talk interview with Gotabaya Rajapaksa, he said he had "missed" the portion in which Gotabaya Rajapaksa said that if former top general Sarath Fonseka testified about war crimes, he would be "hung" as a traitor.
"He said that?" Rapp asked. "It missed that… Witnesses need to testify freely, without consequences." Yeah. Rapp emphasized that the US is "engaged… Samantha Power was there." Yes, in the run up to the victory celebration.
UN Secretary Ban Ki-moon, who back on March 5 said he would appoint of Group of Experts to advise him on accountability in Sri Lanka, is belatedly slated to name the Group this coming week.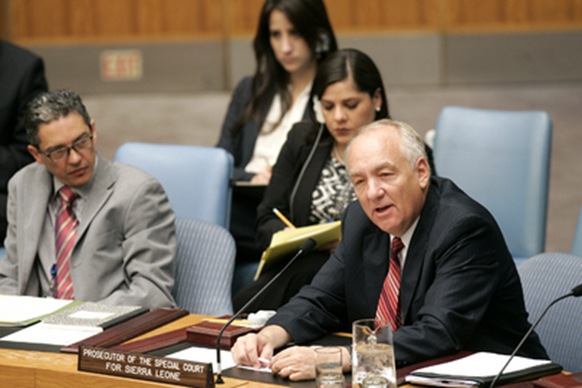 Stephen Rapp in previous role, new US position on Sri Lanka not shown
Beyond a Austrian member whose nationality but not name Inner City Press has previously reported, an intrepid publication in Sri Lanka has named as a pane member Indonesia's former attorney general Marzuki Darusman.
While the wires may be crossed — Darusman was on June 18 named the new Special Rapporteur on human rights in North Korea by the UN Human Rights Council — Inner City Press has previously questioned Darusman, after the April 15, 2010 press conference on the Benazir Bhutto report. Darusman told Inner City Press he had not interviewed Mugran bin Abdul Aziz, nor former US Ambassador to the UN Zalmay Khalilzad. We'll see — watch this site.
Inner City Press: Investigative Reporting from the United Nations
(For updates you can share with your friends, follow TNN on Facebook, Twitter and Google+)