Chief Minister's response to statement on Sri Lankan Tamils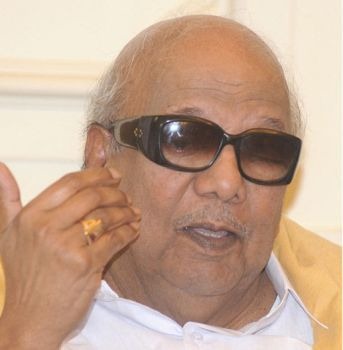 Chief Minister M. Karunanidhi on Saturday said he had no difference of opinion with the proposition that the organisers of the Classical Tamil Conference in Coimbatore had the responsibility of securing justice for the Sri Lankan Tamils.
The Chief Minister's statement came in the context of a statement issued on the website eelanationnews.com purportedly by the headquarters of the now militarily defunct Liberation Tigers of Tamil Eelam.
While hailing the conference, the statement issued on June 15 by Ramu. Suban wanted the organisers to put an end to the sufferings of the Sri Lankan Tamils, besides securing justice for them.
Regret
The statement, however, expressed regret that the Tamils from nearby Tamil Nadu failed to prevent the tragedy that unfolded in Sri Lanka.
While Mr. Karunanidhi refrained from mentioning the LTTE by name, his statement expressed apprehension that "such remarks would give room for unnecessary discussion."
Mr. Karunanidhi said when the whole of Tamil Nadu condemned the killing of Tamils by the Sri Lankan Army, some people had said that "the Sri Lankan Tamils were not innocent and deserved death."
The Chief Minister said if the organisation pondered over the question on who allied with these people and continued to be their cohorts, it would know the truth about the conspirators.
Appreciation
Mr. Karunanidhi said though some people had assumed the role of Gandhari of Mahabharata and Kooni of Ramayana and were issuing statements against the conference, the support of the organisation for the conference, nevertheless, made him happy.
(For updates you can share with your friends, follow TNN on Facebook, Twitter and Google+)