Captured Tiger KP Working With Government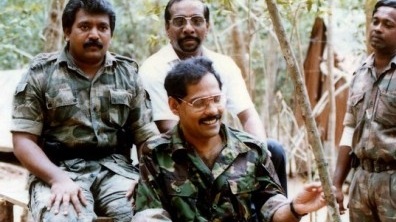 LTTE's international wing head, Kumaran Pathmanathan alias KP has coordinated a meeting between members of the Tamil Diaspora and senior officials in the country's defence establishment.
Military Spokesperson Major General Prasad Samarasinghe told The Sunday Leader that KP, who is currently in government custody, had recently coordinated a meeting between the government and members of the Tamil Diaspora.
"Members of the Tamil Diaspora met with the Defence Secretary to discuss the post war situation in the country," he said.
Samarasinghe said the diaspora members had also met with other senior ministers in the government to discuss post war rehabilitation.
They had met External Affairs Minister Prof. G.L. Peiris as well.
When queried whether KP had accompanied these members from the diaspora to Vavuniya and other areas in the North, Samarasinghe said he was unable to comment on whether KP had visited the North, but said, "The diaspora members visited the North, I don't know about KP."
The Spokesperson added that former LTTEers are now showing a keen interest in rebuilding the North.
"KP has now realised that Eelam is not the solution," he said.
(For updates you can share with your friends, follow TNN on Facebook, Twitter and Google+)