Sand dunes scooped at Ma'n'niththalai
Similar to the plunder of limestone in the Jaffna Peninsula, agents of Colombo are now engaged in scooping the sand dunes of the Ma'n'niththalai sandbar, which is of immense natural beauty and of archaeological as well as tourist potentiality, sources in Poonakari said. The fragile ecology of the densely populated Jaffna Peninsula is deliberately destroyed by corporates in the construction industry and by their contractors, academics in Jaffna said. The plunder of resources in Jaffna and Vanni are divided among Douglas Devandanda and Namal Rajapaksa respectively. Meanwhile percentage of benefits from large-scale 'development' contracts goes to Basil Rajapaksa and the income extracted by the military goes to Gotabhaya Rajapaksa, informed circles said.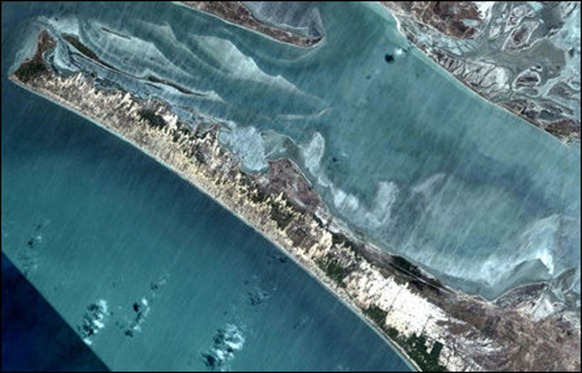 Ma'n'niththalai is roughly a 25 km long sandbar that extends towards the Jaffna Peninsula from Poonakari in the main island.
It was a major route of communication between the Peninsula and the main island since ancient times until early 19th century and is dotted with archaeological remains ranging from microlithic / megalithic times to the times of the Dutch, covered by huge sand dunes.
A few days ago, Namal Rajapaksa, son of Mahinda Rajapaksa, along with a Hindi film actor Vivek Oberoi and Minister Douglas Devananda visited the sandbar, and announced the opening of a communication route through the sandbar.
Namal Rajapaksa is keen in generating income through ferry services to the sandbar, earlier news reports said. He is also now deligated to receive all illegal income locally generated in Vanni.
As sand deposits in the Jaffna peninsula in places such as Ma'nkumpaan, Ariyaalai, Ma'natkaadu are depleted the Ma'n'niththalai sandbar is targeted now.
Each lorry load of sand costing 11,000 rupees is sold for 44,000 in the black market. As an average, 40 lorries are engaged each day in the business in the Ma'natkaadu in Vadamaraadchi. The sand trade in Jaffna is dominated by a leading businessman associated with Douglas Devananda.
In addition to sand, pre-historic layers of gravel deposits in the Vanni region are also scooped out indiscriminately.
The natural resources indiscriminately exploited are also used in the 'construction' works of the Sri Lankan military in Vanni and in Vavuniyaa.
Some former Tamil civil servants still clinging to 'service' with the government are behind advising ways and means of exploitation both in Jaffna and in Vanni.
The limestone quarried in the Jaffna peninsula, seriously threatening the groundwater and environment, is sent to the cement factory in Galle in the South.
Environment was strictly protected and managed under the LTTE administration that had an emotional commitment to the land, Tamil academic sources said.
(For updates you can share with your friends, follow TNN on Facebook, Twitter and Google+)