As Sri Lanka Threatens UN Staff, Ban's UN Makes Excuses, Calls It Gandhian
As Sri Lanka's minister of housing called for UN staff to be held hostage until any war crimes inquiry is stopped, the UN in New York made excuses for the threat. Inner City Press asked about Minister Wimal Weerawansa's call for "to surround the UN office in Sri Lanka and trap the staff inside until a decision is taken by the UN Secretary General to dissolve the panel he appointed on Sri Lanka."
Rather than condemn this call, as it would in Sudan or elsewhere, UN Associate Spokesman Farhan Haq first told the Press that perhaps the minister had not been "quoted correctly." Video here, from Minute 10:46.
Next, Mr. Haq said that the Rajapaksa administration had assured that Weerawansa's call was an "individual position." Inner City Press asked how the UN distinguished between the position of the Sri Lankan government, which has already said it will deny visas to the panel, and that of a government minister. Video here, from Minute 11:59.
The UN House, Haq said, has not reported any mobilization. Who received the assurance? The UN resident coordinator. But isn't he, Neil Buhne, the one who stayed quiet while two UN system staff members were imprisoned and tortured, they said, by the government last year?
Later on Wednesday, Inner City Press asked a very senior UN official about Sri Lanka's threat. This justification was more telling: according to the UN official, Weerawansa's call was really for GANDHIAN civil disobedience, not violence. So the Sri Lankan government is to be praised, then.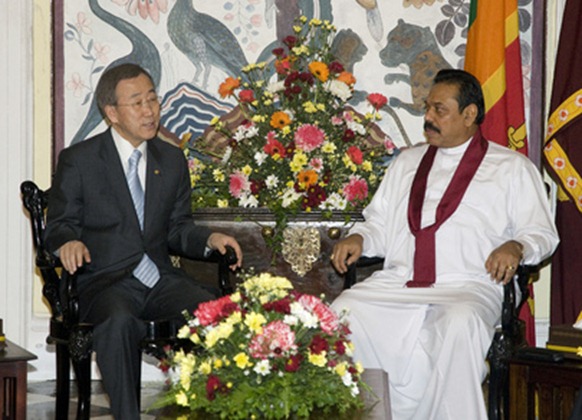 UN's Ban and Mahinda Rajapaksa, response to threat to UN staff not shown
Inner City Press asked Haq if the terms of reference of the panel, the preparation of which was offered as an excuse for the 90 day delay between announcing and forming the panel, will be released to the public. No, Haq said, it is an advisory body, not a body outside its advisory function. Video here, from Minute 15:52.
(For updates you can share with your friends, follow TNN on Facebook, Twitter and Google+)