Next quits Sri Lanka, exports to EU fall – report
The British clothing retailer, Next, has stopped sourcing its garments from Sri Lanka because of the uncertainty of the continuance of the GSP+ duty concession from the European Union, The Sunday Leader reported this week. The company has moved production to Bangladesh, an industry source told the paper. Meanwhile, exports to the EU fell 13% in the first quarter of 2010, a decline the Sri Lankan garment industry attributes to falling demand due to the economic conditions there. Garments are Sri Lanka's largest foreign exchange earner.
The GSP+ facility helps Sri Lanka to export garments and several other products to the EU on a duty free basis. The advantage o exporters is 9%.
The EU last month again threatened to stop this concession by August 15 if Sri Lanka doesn't give a written guarantee by July 1 to some 15 conditions governing human rights, the deadline of which is now past.
Sri Lanka rejected the conditions out of hand and dismissed the GSP+ concession as not worth surrendering the country's sovereignty.
Nonetheless, the EU Ambassador in Sri Lanka, Bernard Savage, told the Sunday Leader on Thursday that the EU exercises a degree of flexibility in their timeframe given to Sri Lanka and would wait for a couple of days for a reply.
However, in the meantime, the Sri Lankan Central Bank has issued a statement warning the garments industry to prepare to make do without the GSP+ concession.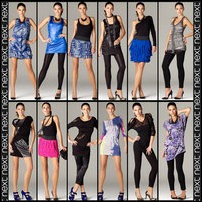 According to the Central Bank, garments exports to EU countries constituted about 50 per cent of Sri Lanka's total apparel exports in 2009. Of these, about 60 per cent benefited from the GSP+ scheme, while the balance was exported to the EU without the GSP+ concession.
Next plc (LSE: NXT) is a British retailer, with its headquarters in Enderby, Leicestershire, England. It is one of the United Kingdom's largest clothing retailers, number three behind Marks & Spencer and Philip Green's retail empire of Bhs and Arcadia Group. The company, which has employed some of the biggest names in the fashion world including Alessandra Ambrosio, Noémie Lenoir, Yasmin Le Bon, Gabriel Aubry and Paul Sculfor, has over 400 stores throughout the UK and the Republic of Ireland, and 50 franchise branches in Europe, Asia and the Middle East.
(For updates you can share with your friends, follow TNN on Facebook, Twitter and Google+)