Sri Lanka Army Claims Dutch Ambassador Support Despite EU Human Rights Cut of GSP Plus Concession
As the European Union cut off Sri Lanka's trade concession on human rights grounds, the Sri Lankan Ministry of Defense claimed that EU member (and World Cup semi finalist) The Netherlands "appreciates the diplomatic and strategic position upheld by the Government of Sri Lanka with respect to the pressure exerted by certain countries in connection with the internal political issues of the country."
This appreciation was sourced to Leoni Cuelenaere, The Netherlands' Ambassador to Sri Lanka in a July 2 meeting with Sri Lankan Prime Minister D.M. Jayaratne, and was placed on the government's web site and numerous other sites.
Since this seemed a strange position for an EU member to express, email inquires were made with Leoni Cuelenaere, resulting in an electronic reply that "as you can imagine, I said nothing of the kind!"
But why, then, has not The Netherlands and the EU more publicly sought a retraction from the Sri Lankan Ministry of Defense and the other sites which have carried and are carrying this presentation of The Netherlands' position?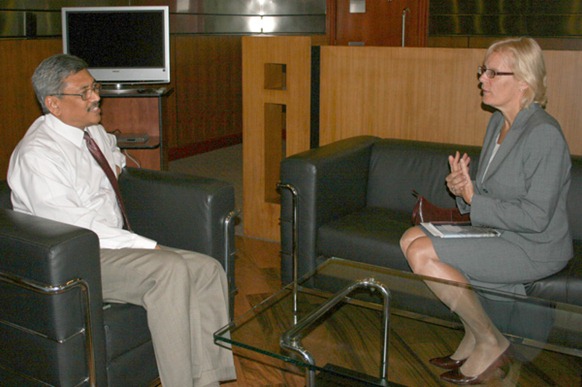 Leoni Cuelenaere and Gotabaya Rajapaksa, no correction shown
Similarly, with UN Secretary General Ban Ki-moon in Jamaica, he has said nothing about Sri Lankan Minister Wimal Weerawansa's threat to take UN staff in Colombo hostage. Ban's Associate Spokesman has said that Weerawansa's call was only as an individual, despite his position with the Rajapaksa government.
(For updates you can share with your friends, follow TNN on Facebook, Twitter and Google+)