UN Downplays Sri Lanka Hostage Taking of its Staff, Ban Has Not Called Rajapaksa
The UN continued running scared of Sri Lanka's Rajapaksa, even after its staff in Colombo were held hostage by a mob led by a minister in Rajapaksa's government, Wimal Weerawansa.
   Inner City Press asked the Associate Spokesman for UN Secretary General Ban Ki-moon, Farhan Haq, what he made of Weerawansa's cell phone call to Gotabaya Rajapaksa, after which police pulled back and allowed the mob to continue to trap UN staff. Video here, from Minute 6:28.
Haq did not dispute or deny the call, responding rather that the "bottom line" was that late in the day, staff were able to leave, while the mob remained in front of the UN building.
While Haq repeated spoke of contacts with and assurances from "officials to the highest level," the highest he listed was the (non-Rajapaksa) Prime Minister speaking with the UN's local representative Neil Buhne.
Will Ban Ki-moon himself, Inner City Press asked, be speaking with Mahinda Rajapaksa? "At this stage I don't have anything to say about the Secretary General making any such calls," Haq replied.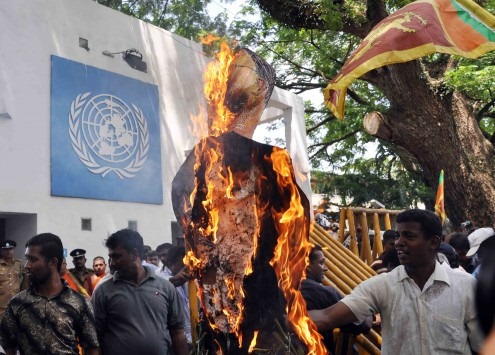 On part of demonstation, UN's Ban phone call not shown
Why not? Ban has returned from Montego Bay, Jamaica. At 10:30 on Tuesday he had a meeting with the head of the UN Mission in Afghanistan, then nothing listed until 2:50 p.m..
(For updates you can share with your friends, follow TNN on Facebook, Twitter and Google+)