As Sri Lanka Burns Him in Effigy, UN Ban Has No Comment, Pillay Says Speak to Gov't
A day after UN Secretary General Ban Ki-moon was burned in effigy in Sri Lanka, on his way into the UN Security Council he stopped to greet the Press. Inevitably, Inner City Press asked him what he was going to do about the taking hostage of UN staff in Colombo and the closure of the UN facility today.
Mr. Ban smiled. His Associate Spokesman cut in, "The Secretary General will speak at the appropriate time."
But UN staff have been held hostage, with the government minister leading the hostage taking now threatening more serious action — if this is not the appropriate time for Ban to speak, including to Sri Lanka's Mahinda Rajapaksa, when is?
Minutes later, Inner City Press put the same question to the UN High Commissioner for Human Rights Navi Pillay: what should the UN do about the protests? "They should ask the government to speak with the protesters," Ms. Pillay answered.
  But the protests are led by a government minister, who called Presidential brother Gotabaya Rajapaksa to get the police to let the hostage taking go forward.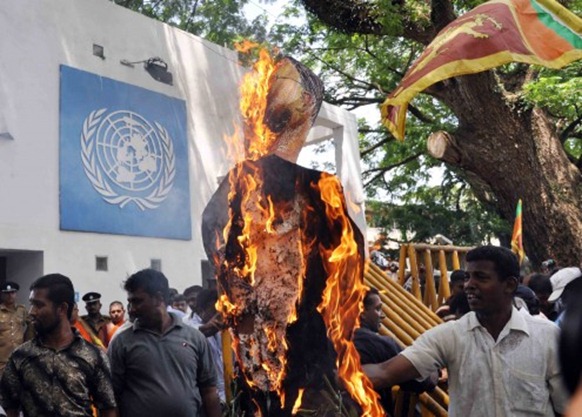 Ban Ki-moon effigy burning July 6, (no) comment July 7 not shown
Meanwhile, Sri Lanka has said it is seeking Non Aligned Movement approval of a statement that
"It is a well recognized international norm that in situations where there are allegations or breaches of international law that the country concerned should in the first instance be allowed to conduct its own investigation and to make known its findings."
(For updates you can share with your friends, follow TNN on Facebook, Twitter and Google+)