Sri Lankan protesters vow hunger strike against UN
Sri Lankan protesters threatened hunger strikes and nationwide demonstrations Wednesday if the United Nations doesn't halt its investigation into possible abuses committed during the final bloody months of the civil war here. The world body rejected the demand.
The threats came a day after hundreds of demonstrators led by a government minister laid siege to the U.N. compound in Colombo, trapping workers inside for hours, and burned effigies of U.N. Secretary-General Ban Ki-moon.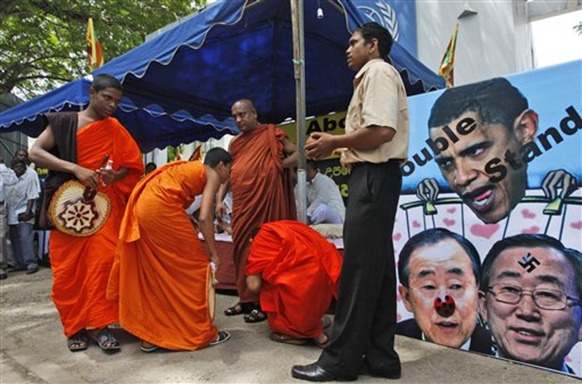 Government anger toward the world body has grown since Ban formed the investigative panel last month, with ministers saying it was part of an international witch hunt against victorious Sri Lankan forces.
"The U.N. has deviated from its noble aims and is now bent on destabilizing selected countries," Housing Minister Wimal Weerawansa told a news conference.
Weerawansa, who heads the untra-nationalist National Freedom Front party, orchestrated Tuesday's protest, which ended in the evening after Sri Lanka's foreign secretary intervened.
The United Nations said Wednesday the panel would not be disbanded.
"We have announced the panel. The panel has been created and they will go about their work, so that's clear," associate spokesman Farhan Haq said at U.N. headquarters in New York.
A sit-in with about 20 protesters continued Wednesday in front of the U.N. offices, and Weerawansa said his followers, including a lawmaker, will go on a hunger strike if the panel is not dissolved Wednesday.
Haq said some staff went into work anyway while others worked from home.
About 100 of the 400 U.N. workers considered to be "essential staff" would return to work as normal on Thursday. With indications that demonstrators remained outside the compound, the U.N. country team would have assess whether other staff would return soon, he said.
Haq said Ban's chief of staff, Vijay Nambiar, met Sri Lanka's U.N. Ambassador Palitha Kohona on Tuesday "who gave full and clear assurances of U.N. staff safety and security."
Weerawansa said the U.N. employees will not be obstructed from going to work even if the U.N. fails to meet their demand.
Government troops crushed the Tamil Tiger rebels last year, ending their 25-year campaign for an independent state for ethnic minority Tamils.
More than 80,000 people were killed in Sri Lanka's civil war. According to the U.N., more than 7,000 civilians died in the last five months of fighting alone.
Human rights groups have accused troops and Tamil rebels of deliberately targeting civilians and killing thousands of innocent people in the final months of the war and called for war crimes investigations.
The government has denied targeting civilians. It opposes the panel and has already said it will not issue visas to its members. It said it allowed the protest outside the U.N. compound because it was obliged to respect people's right to voice their opinion.
Associated Press writer Edith Lederer at the United Nations contributed to this report.
The Associated Press: Sri Lankan protesters vow hunger strike against UN
(For updates you can share with your friends, follow TNN on Facebook, Twitter and Google+)