Malaysian corporate brokers embark on 'development' in Jaffna
 A Malaysian Ceylonese delegation visited Jaffna last month to discuss 'development' with the commander of the occupying Sri Lanka military, the Government Agent and the Bishop of Jaffna. The purpose of the visit of the nine-member team, headed by Dato S Kulasegaran and C Gnanarajah, was to assist the government machinery in the fields of economy and trade and to inspire the foreign investors on the ventures open for investment in the region, said a military-run website in Jaffna. Kulasegaran, a corporate lawyer having economic interests in Colombo, is close to the Malaysian Prime Minister. In the past few years he has been coordinating with the military intelligence of Sri Lanka and with the Sri Lankan High Commission in Malaysia.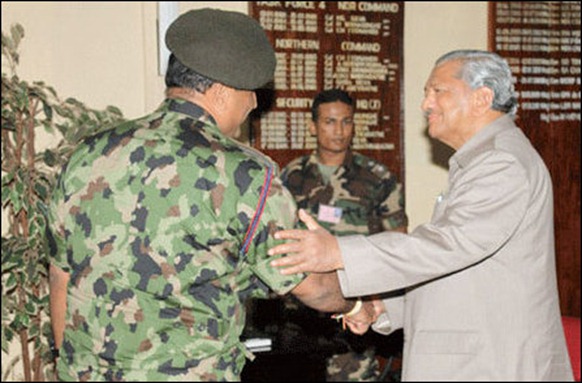 Dato Kulasegaran with Major General Mahinda Hathurusinghe, the commander of the occupying Sri Lankan military in Jaffna [Photo courtesy: Civil Military Coordination in Jaffna]
The delegation, tagged by the Sri Lankan military as a group of statesmen from Malaysia, also intends to launch certain community based projects in Jaffna in liaison with the Rotary Club of Colombo West, the military website, 'Civil-Military Coordination in Jaffna,' further said.
A few years ago, Kulasegaran was in the forefront in attempting to give a new 'Sri Lankan' identity to the Jaffna Tamil diaspora in Malaysia that has always been identifying itself as Jaffanese or Ceylonese, through its 130-year-old institutions. Headed by Kulasegaran, 'The Federation of Malaysian Sri Lankan Organisations' (FOMSO) convened an international conference of 'Sri Lankan' diaspora, in Kuala Lumpur, in 2008, backed by the Sri Lankan High Commission in Malaysia behind the scene.
The conference failed as many participants opposed to Kulasegaran's approach to the diaspora. In a 'confidential' report later, the New York based Public International Law & Policy Group (PILPG), attributed the failure of the conference to the credibility of the hosts.
FOMSO was also engaged in organising many gala functions in recent years for 'fund raising.'
Meanwhile, grass root cooperative movement institutions such as the cooperative bank, started by the Jaffna Tamil diaspora in Malaysia decades ago, which could contribute better to the real development of the masses in the present circumstances, have become incapacitated in Malaysia today.
(For updates you can share with your friends, follow TNN on Facebook, Twitter and Google+)