UN chief shuts Sri Lanka office, recalls official
Secretary-General Ban Ki-moon closed the main U.N. office in Sri Lanka and recalled a top official Thursday in a deepening standoff over the U.N.'s refusal to stop investigating alleged abuses in the country's civil war.
The U.N. chief decided to close the U.N. Development Program's regional center in the Sri Lankan capital of Colombo and recall Neil Buhne, the U.N.'s resident coordinator for Sri Lanka, for private consultations at headquarters in New York, the U.N. said Thursday.
The UNDP's regional center houses the other U.N. agencies that operate in Sri Lanka and also coordinate U.N. development programs in 37 nations in Asia and the Pacific region.
Ban found it "unacceptable that the Sri Lankan authorities have failed to prevent the disruption of the normal functioning of the United Nations offices in Colombo as a result of unruly protests organized and led by a cabinet minister of the government," said U.N. associate spokesman Farhan Haq.
Ban called on Sri Lanka's government "to live up to its responsibilities towards the United Nations as host country, so as to ensure continuation of the vital work of the organization to assist the people of Sri Lanka without any further hindrance," Haq said.
He added, however, that "everyone is entitled to peaceful protest."
The U.N. has estimated that more than 7,000 ethnic Tamil civilians were killed in the last five months of the fighting, which drew to a close last year, ending a 25-year war against the Sinhalese majority on the island. Human rights groups accused government forces and Tamil Tiger rebels of deliberately targeting civilians.
Ban has appointed a three-member panel to advise him on the alleged atrocities, and Haq said its work will continue. But protesters say the U.N. will unfairly prosecute Sri Lankan armed forces and political leaders for war crimes.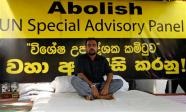 On Tuesday, Sri Lanka's housing minister, Wimal Weerawansa, led a protest that drew hundreds of people, trapping U.N employees inside their office. Weerawansa, part of President Mahinda Rajapaksa's government, leads the ultranationalist National Freedom Front. The employees were freed after the country's foreign secretary got involved.
The protesters then held a smaller sit-in starting Wednesday, but U.N. employees were able to keep working in the office or from home. Then on Thursday, Weerawansa started a hunger strike in front of the U.N. office.
Buddhist monks chanted blessings and some 100 national flag-waving supporters cheered as Weerawansa got onto a stage and accused the U.N. of "hunting down" Sri Lankan soldiers.
(For updates you can share with your friends, follow TNN on Facebook, Twitter and Google+)