UN's Ban Belatedly Ascribes Siege to Sri Lanka Government, But Won't Call for Visas for UN War Crimes Experts Panel
A week after the UN characterized as "individual" Sri Lankan government minister Wimal Weerawansa's urging that UN staff be taken hostage until the UN advisory panel on possible war crimes in the country be disbanded, on July 8 Secretary General Ban Ki-moon belated deemed "unacceptable.. the unruly protests organized and led by a cabinet minister of the Government."
Ban recalled his resident coordinator Neil Buhne, who had declined comment while his stage were blocked in the UN building, and announced he had decided that the UNDP Regional Center in Colombo will be closed. The role of UNDP's Administrator Helen Clark or its Executive Board is not clear.
Inner City Press asked if Ban's "call upon the Government of Sri Lanka.. to ensure continuation of the vital work of the Organization" includes a call that they reverse their announced denial of visas to the members of the experts' group on war crimes.
Associate Spokesman Farhan Haq initially would not say if the "work of the Organization" referred to included the work of the panel, saying that any decision to seek to go to Sri Lanka would be up to the panel.  Video here.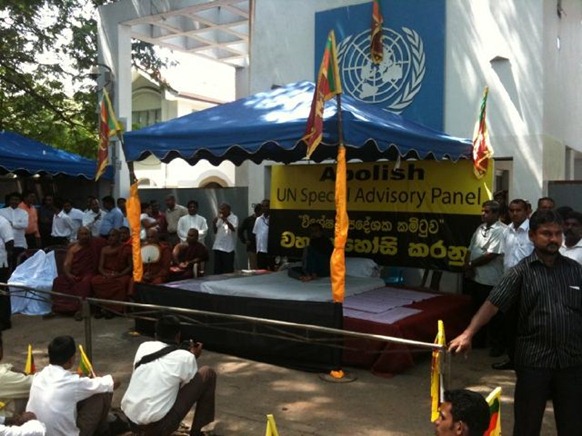 Protest platform at UN, call for visas for panel not shown
But the panel's chairman Marzuki Darusman has already called Sri Lanka's announced visa denial "unfortunate."
So is Ban calling on the government to grant the visas? That will be up to the panel, Haq said. Watch this site.
(For updates you can share with your friends, follow TNN on Facebook, Twitter and Google+)