Boat refugees 'not Tigers', Canada admits
The Canada Border Services Agency (CBSA) now admits it has no proof that 25 Tamils boat refugees that it labelled as terrorists and kept behind bars for months were members of the Liberation Tigers, The Vancouver Sun reported Friday. Last month, The Vancouver Sun obtained a secret CBSA report that stated there were "reasonable grounds" to believe a third of the 76 migrants who arrived on the Ocean Lady migrant ship last October were members of the Tamil Tigers.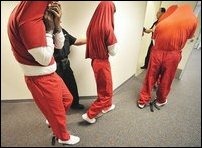 The report, written in January, suggested the entire purpose of the journey may have been to help the Tigers establish a new base of operations in Canada.
However, the concerns expressed in the report seemed out of step with how the CBSA handled the migrants' refugee cases before the Immigration and Refugee Board (IRB).
The CBSA did argue for the continued detention of those migrants it suspected for three months of being Tigers, and even made arrangements to present secret evidence to the IRB about why the men posed a danger to the public.
However, when the date for the secret hearings finally arrived in January, the CBSA suddenly withdrew its application and agreed to release all of the migrants under strict release conditions.
All the migrants claimed refugee status but none of them have yet had hearings to determine their status. In its written statement, the CBSA said all 76 migrants were accounted for and abiding by their conditions, which in some cases include curfews.
Vancouver lawyer Doug Cannon, who represents one of the migrants, said the CBSA's statement suggests the agency unfairly tagged the migrants as terrorists.
"Not only is it indicating they don't have any proof. It indicates they never had any proof," he said. "There was never anything substantial to justify the fears that they expressed.
(For updates you can share with your friends, follow TNN on Facebook, Twitter and Google+)