Houses constructed for SLA in Vanni as resettled civilians suffer, abandoned in huts
While the resettled civilians in Vanni suffer in makeshift huts in broiling sun Colombo government is hastily constructing semi-permanent houses for Sri Lanka Army (SLA) soldiers near Muruka'ndi in Vanni in a Sinhalese colonization scheme consisting of 12,000 houses with facilities including hospitals, schools, post offices, sources in Vanni said. The houses are being constructed in a newly declared SLA High Security Zone, strictly out of bounds for all outsiders. Hundreds of container vehicles bring the construction material for the semi-permanent houses and heap them along A9 road. These materials are transported in SLA trucks to the construction site so as to prevent any outsider seeing the work in progress, the sources added.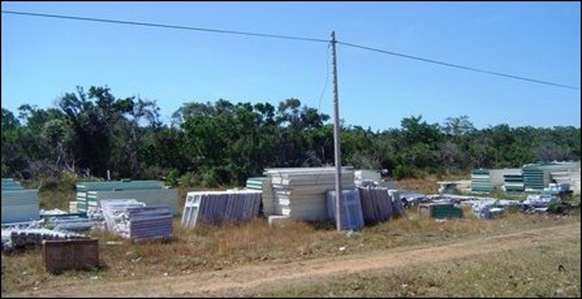 5,000 semi-permanent houses, each of it with 2 rooms, a hall, kitchen and bath room, are to be constructed in the first stage of the project for 12,000 houses.
The materials that are brought from Colombo include aluminium sheets and other such materials used in the speedy construction of the houses.
Meanwhile, the uprooted civilians hurriedly resettled in Vanni are left on their own abandoned by the government to suffer in makeshift structures on bare lands without any basic facilities.
The ill-nourished children of the resettled civilians watch with vacant eyes as lorries after lorries full of construction materials for houses pass them by, the sources in Vanni said.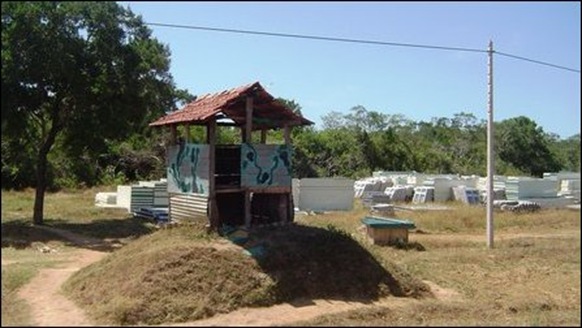 (For updates you can share with your friends, follow TNN on Facebook, Twitter and Google+)