Sri Lanka Statement Minimizing UN Panel Done with Buhne, As Kohona Pitches Officials
When UN Secretary General issued a statement late on July 9 minimizing the mandate of the UN panel of experts on accountability in Sri Lanka, the purpose of the statement was opaque. Hours later, Sri Lanka government minister Wimal Weerawansa called off his "hunger strike to the death" a mere two days in.
On July 12, Inner City Press asked Ban's Associate Spokesperson Farhan Haq if the statement was negotiated with Sri Lanka's Rajapaksa government to provide ground cover for Weerawansa to eat, and who outside the UN system had been consulted before the final statement was issued.
Haq answered indirectly, saying that the statement merely reiterated prior Ban Ki-moon pronouncements. Then why issue it?
Referring to accountability, Ban's July 9 statement says that "the United Nations recognizes that the responsibility in this regard is that of the Government of Sri Lanka." It does not even say "in the first instance."
Most assume that the purpose of the panel is, or was, to advise Ban on whether the Rajapaksas' "Lessons Learnt" mechanism is enough. But Ban did not say that. Nor did he call for visas for the panel members to visit Sri Lanka.
Ban's Associate Spokesman Farhan Haq said, without limitation, that the statement was produced "in discussion with the Resident Coordinator, who thought it would be helpful." Haq did not say with whom Buhne has consulted.
Inner City Press asked if Buhne will be made available for Press questions while he is in New York. Haq replied that Buhne is "arriving today" and is "finishing up his time;" Haq said he was "not sure if he will be available for a briefing." Video here, from Minute 20:42.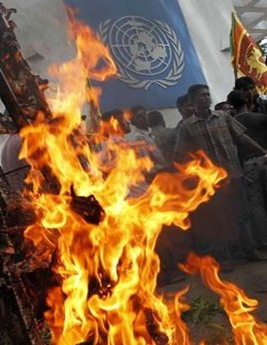 Fire at UN in Sri Lanka, (call for) visas for UN panel not shown
Meanwhile Sri Lanka'a Permanent Representative to the UN Palitha Kohona appeared at 1 p.m. on Monday at a commemoration of the genocide, allowed by the UN, in Srebrenica in 1995. While Ban spoke of accountability — that word again — Kohona chatted up US Deputy Permanent Representative Rosemary DiCarlo.
(For updates you can share with your friends, follow TNN on Facebook, Twitter and Google+)