On Sri Lanka, NAM Will Wait, "Pillay's" Neuwirth to Head Panel Staff of 8, Qatar Pitched Iran to Head NAM
We'll "take our time" on the Sri Lanka letter, the current head of the Non Aligned Movement told Inner City Press on Thursday night, to see if they can "make up to Secretary General" Ban Ki-moon.
  He added that "a lot of comments" against the letter were received from NAM members, on "the relation to the flotilla" and other issues.
Meanwhile the Council representative of a Permanent Five member, also on Thursday evening, told Inner City Press that Sri Lanka is "out of control… they went too far."
  This representative confirmed to Inner City Press the identity of the chief of staff of the UN's Panel of Experts on Sri Lanka: Jessica Neuwirth, a long time UN human rights official and founder of Equality Now, friend of Navi Pillay.
Some in Sri Lanka government circles say the appointment of Neuwirth, at a high level, smacks of patronage or nepotism, as does staffing the panel with eight people. "Goldstone didn't get that," one noted. "The Sudan panel didn't get that."
With a staff of eight, the Panel should at least opine of the credibility of the Rajapaksa Administration's "Lessons Learnt" panel. The Rapjapansans are afraid, they say, of this "becoming like Cambodia," with a UN affiliated tribunal, or even Sierra Leone. We'll see.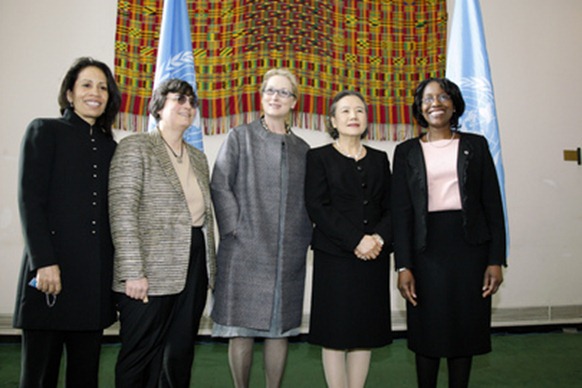 Neuwirth, 2d from left, with Mrs. Ban, Mayanja, Equality Now
Also on the NAM, the next chair after Egypt will be Iran, it was confirmed to Inner City Press on Thursday night. Previous candidate Qatar turned around and NOMINATED Iran — "for what purpose, we don't know," one NAM insider said. Get ready for fireworks.
Inner City Press was told that while Qatar is unlikely to get the UN Women headquarters, even for $100 million, they could "appoint a lady." There are 10 "official candidates," including the "Rwandan minister," the insider said, "and Rachel Mayanja."
   On whether DSG Asha Rose Migiro will shift over to UN Women, "it's up to her," the insider said, finding it significant that Migiro is handing UN Women on an interim basis.
(For updates you can share with your friends, follow TNN on Facebook, Twitter and Google+)