Karunanidhi asks Centre to assess situation in Sri Lanka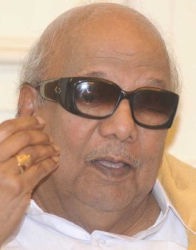 Chief Minister M. Karunanidhi has suggested that the Union government, through diplomatic sources or a special envoy, assess the situation in the affected areas in Sri Lanka and the progress of rehabilitation measures undertaken by the Sri Lankan government for internally displaced Tamils.
In his reply of July 17 to Prime Minister Manmohan Singh, the Chief Minister said the proposed assessment could cover the timeframe for completing the process of resettlement to the satisfaction of the affected persons. "This will enable us to plan the future course of action with a view to ensuring peaceful and rightful livelihood of the displaced Tamils."
Dr. Singh, in his letter of July 9, sought the views and advice of Chief Minister M. Karunanidhi to accelerate the process of genuine reconciliation to resolve the ethnic issue in Sri Lanka.
Referring to the Union government's sanction of Rs. 500 crore for the rehabilitation, Mr. Karunanidhi expressed sadness that the measures had not progressed at the expected level. "Consequently, the displaced people continue to undergo the ordeal of camp life."
Restoration of normal life
Stating that the restoration of normal life in northern and eastern Sri Lanka through rapid rehabilitation of the internally displaced Tamils was of "paramount importance and urgency," he drew the attention of Dr. Singh to the Tamils' representation to Sri Lankan President Mahinda Rajapaksa, [who was in Kilinochchi on Wednesday last to chair a special meeting of his Cabinet], regarding the denial of permission to return to their native places, though a year had lapsed since the end of the war [known as Eelam War IV].
His party, Dravida Munnetra Kazhagam, had been advocating the cause of Sri Lankan Tamils since 1956. In spite of the demand for a long- term political settlement and continuous efforts of the Union government, no tangible action had been taken to the satisfaction of all sections concerned. "Thus, the issue relating to the Sri Lankan Tamils needs long-term and short-term solutions," the Chief Minister said.
(For updates you can share with your friends, follow TNN on Facebook, Twitter and Google+)