Tamils sue Germany for accepting alleged war crimes commander as ambassador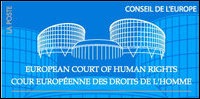 In an unprecedented legal move, three diaspora Tamil organisations have decided on Friday to file a case against Germany in the European Court of Human Rights. The Switzerland Council of Eezham Tamils (SCET), the Norwegian Council of Eezham Tamils (NCET) and the US based NGO, Tamils Against Genocide (TAG), are to submit an application to the European Court of Human Rights charging the German government for violating EU Rights conventions by accepting a Sri Lankan military commander, Major General Jagath Dias, an accused in the war crimes, as Sri Lanka's diplomat to Germany. Meanwhile, German based International Human Rights Association at Bremen, while welcoming the move said that real thrust could be achieved only by exposing and suing what this general is doing in Germany, violating human rights with the tacit approval of the German government.
The case will be filed on behalf of the nearly 60,000 Eezham Tamils domiciled in Switzerland and in Norway, invoking Article 34 of the European Convention for the Protection of Human Rights and Fundamental Freedoms. SCET and NCET are democratically elected NGOs registered in their countries.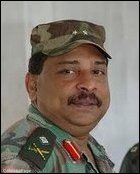 Jagath Dias was commanding three divisions of the army and one task force that were directly engaged in the war, which caused the death of nearly 40, 000 civilians. International organizations have called for war-crimes investigations into Sri Lanka's conduct of war.
"He [Maj. Gen. Dias] was criminally responsible for one or more jus cogens norm violations, including the systematic and indiscriminate artillery shelling and aerial bombardment of the Safe Zone in Mullaiththeevu between at least January and May 2009", a press statement of the diaspora organizations said.
The case will be filed on the basis of new evidence submitted in the form of 182 video clips of 3-10 minutes length, taken over 59 days between January and May 2009, the press statement further said.
Statement in English: CC(NS)/TAG v Germany
Statement in Tamil: CC(NS)/TAG v Germany
Nearly four months after the war, Germany received Jagath Dias as Sri Lanka's ambassador to Germany. By doing so Germany has violated the human rights-based morality of the European society and has caused psychological torture to Europe's conflict-affected Tamil population. The European Conventions articles 3, 8, 11(2) and plausibly 13 are also violated by Germany knowledgeably not rejecting the appointment of Jagath Dias, the diaspora organizations argue.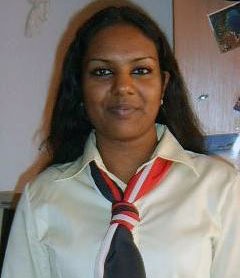 This is the first time the Tamil diaspora is pro-actively seeking to enforce its rights in Europe for crimes against Tamils, and the second generation Tamils are taking a leading role going beyond sectarian issues and stressing for unity and action in this regard, observers said.
The organizations are in the process of collecting more evidence, and war victims and eye-witnesses have to come forward with depositions. Procedures have been instituted to guarantee confidentiality, said 23-year-old, Arulnithila Deivendran, heading the legal group of the organizations filing the case.
The SCET has issued postal stamps in Switzerland on Sri Lanka's war crimes and it urges the public to use them in letters and postcard campaign.
Meanwhile, International Human Rights association in Bremen (Internationaler Menschenrechtsverein Bremen) said that significant changes have been noticed in the attitude of the German government after it decided to receive Jagath Dias as Deputy Ambassador.
"Jagath Dias is in Germany for practical reasons," says Nicolai Jung of the organisation in Bremen.
"During the first six months of Dias's appointment he managed to convince the German authorities to arrest six respected members of the Tamil community."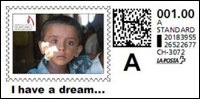 "He chose these people because, for him, they are least likely to put their own interests, whether political or personal, above the rights of the oppressed Tamil people. He chose these people, in Germany and in other European countries because in his view they are the most likely to bring him and the Sri Lankan regime to account for genocidal attack on the Tamil people," Nicolai Jung further said.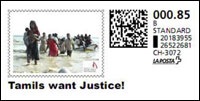 In his opinion, "any legal or political action, which does not put to the forefront the central objective of what he came here to do – will only serve to hide the successful practical actions he has taken in Europe. And, even if these legal or political actions are successful in getting Jagath Dias ejected as deputy ambassador in Germany, he would have achieved his objectives in Europe – he will get a heroes welcome in Sri Lanka while his victims in Germany will rot in jail like the 12,000 held in Sri Lanka".
"It is essential to put the interests of the Tamils who are in prison because of him – his victims – first, in any legal or political campaign," says the German human rights group giving further details in its website, humanrights-server.org.
Recently, another Sri Lankan military man, Donald Perera, who served as Chief of Staff of Sri Lanka's forces during the war, has been received by Israel as Sri Lanka's Ambassador.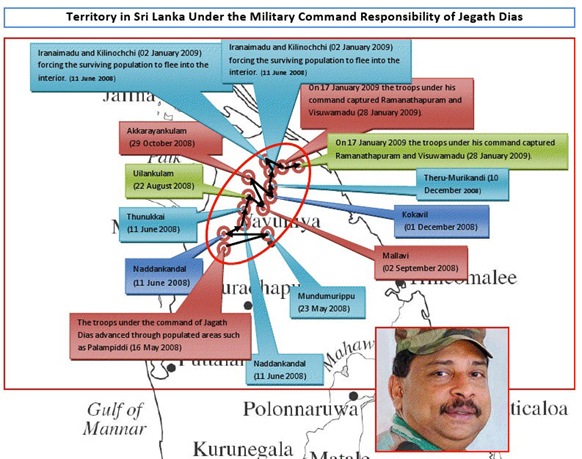 Territory under the military command responsibility of Jagath Dias [Illustration: CC[NS]/TAG]
(For updates you can share with your friends, follow TNN on Facebook, Twitter and Google+)