On Darfur, As US Gration Says Genocide Charge Makes His Job Harder, Rice Insists Policy is Clear and United: Or Is It AWOL?
Days after Sudan's Omar Al Bashir was indicted for genocide by the International Criminal Court, UN envoy to Sudan Scott Gration said that the indictment "makes my job harder."
  This not surprisingly gave rise to outrage among human rights advocates. Tuesday at the UN, Inner City Press asked US Ambassador Susan Rice if Gration's in the Obama administration's view. Video here, from Minute 2:49.
Ambassador Rice responded,"No, the United States is very clear and united behind President Obama's policy towards Sudan." Activists, on the other hand, say that the Obama Administration's policy on Sudan is drifting, or AWOL (Absent Without Leave) as one campaign puts it.
From the U.S. Mission's transcript:
Inner City Press: Some say that the administration, sort of, that you have one message, and Scott Gration has another message. He was quoted recently as saying that the indictment for genocide of President Bashir makes his job more difficult. So I guess what I'm wondering is, is there something called Project AWOL that says the administration has sort of lost its way on Sudan policy? What do you make of that criticism and do you think that-is the administration moving with one voice to put pressure on President Bashir both on Darfur and on South Sudan having the referendum, or are there mixed messages, as some say?
Ambassador Rice: No, the United States is very clear and united behind President Obama's policy towards Sudan, which has multiple components as it was outlined by Secretary Clinton and I and others and General Gration in October. We are placing very strong emphasis on full and urgent implementation of the Comprehensive Peace Agreement as the referendum approaches and we attach great urgency to resolving the many issues that remain unresolved. At the same time, we are gravely concerned by the deteriorating security situation in Darfur, the need for accountability for justice for ending the violence and ensuring full protection of civilians. And so, the situation in Sudan is complex, there are multiple imperatives, and we're united in our efforts to meet those imperatives.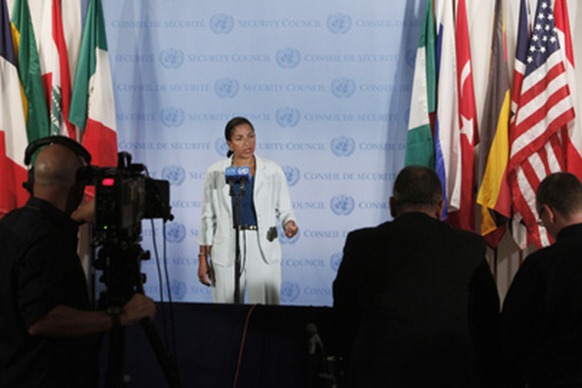 Susan Rice on July 27, Gration, AWOL
Inner City Press: Does the genocide indictment make your job more difficult, just one follow up. Is that actually what he said?
Ambassador Rice: I'm not in a position to say precisely what others have said. Suffice it to say that the United States stands firmly behind justice and accountability for war crimes, genocide, crimes against humanity in Darfur and elsewhere.
Questions were also raised about the U.S. position on accountability for war crimes when Ambassador Rice issued a statement largely lauding Sri Lanka's Rajapaksa government's own panel on "Lessons Learnt," which was meant to forestall a advisory UN Panel of Experts on Accountability in Sri Lanka.
(For updates you can share with your friends, follow TNN on Facebook, Twitter and Google+)