Malwatte Chapter Chief Incumbent visits newly erected Buddhist temples in Vanni
The Chief Incumbent of Malwatte Chapter, Most Venerable Thippaduwaave Sri Sumangala thera, accompanied by Buddhist priests visited Vanni Wednesday where he worshiped in the Buddhist temples newly erected by occupying Sri Lanka Army (SLA), sources in Vanni said. Thursday, the Chief Incumbent participated in an event in Nelliyadi Maththiya Makaa Viththiyaalayam in Vadamaraadchi and distributed learning materials to the children of war affected areas of Vadamaraadchi and Thenmaraadchi. This visit is counted as the first by a Chief Incumbent of Malwatte Chapter to Jaffna after many years, sources in Jaffna said.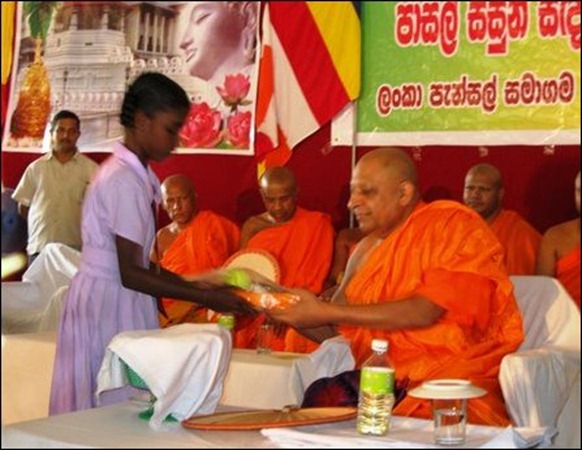 Though the visit to Vanni had not been made public media in Jaffna, however, was permitted to gather news in the events in Jaffna town where the Chief Incumbent took part.
The Chief Incumbent also visited Nalloor Murukan Hindu temple area.
SLA and police provided heavy security to the Chief Incumbent on his visit to several places in Jaffna peninsula.
The visit of the Buddhist Chief Incumbent to Vanni is seen as an act of consolidating the claim of Sri Lanka government that many places in Vanni mainland are traditional Sinhala Buddhist areas, civil society sources in Jaffna said.
SLA in Vanni has been erecting Buddhist temples along A9 road and in many places in Ki'linochchi and Mullaiththeevu in haste after occupying them after the war on Vanni, in an effort to support the claim, they further said.
(For updates you can share with your friends, follow TNN on Facebook, Twitter and Google+)