As UN Names Gaza Flotilla Panel, Uribe Seems Ill-Timed, Sri Lanka Delay Contrasted
As Inner City Press predicted Saturday, UN Secretary General Ban Ki-moon has announced a panel on the assault on the Gaza flotilla, chaired by former New Zealand prime minister Geoffrey Palmer. While Inner City Press said the announcement could come as early as Sunday, the UN made its announcement 9:38 Monday morning.
The vice chair is outgoing Colombian president Alvaro Uribe. While a major U.S. ally, this selection by Ban appears ill-timed to some, given Colombia's current stand off with Venezuela, triggered by Uribe's accusation that Hugo Chavez is harboring FARC guerrillas.
Only last week, Venezuela's Ambassador Valero met with Ban and delivered a letter accusing Uribe of warlike acts. To now put him on the Gaza flotilla panel seems strange.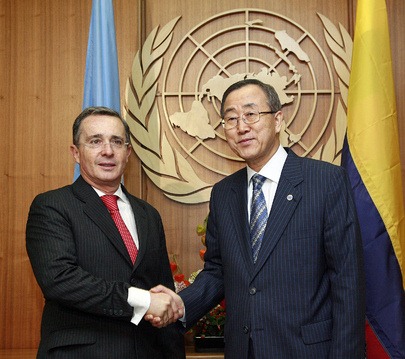 UN's Ban and Uribe, Venezuela and Sri Lanka slowness not shown
Also worth contrasting is the speed of Ban's announcement — the panel will formally begin work on August 10, and make its first report in mid September — compared with his delay in announcing, naming and starting his advisory panel on Sri Lanka's "bloodbath on the beach" in May 2009.
It was only in March 2010 that Ban said he would appoint a panel, and only on June 22 did he in fact name the panel's members. They met on July 19, but the four month clock for them to report has still not begun, as Ban has yet to staff the panel. (His first choice as chief of staff, Jessica Neuwirth, was withdrawn after reporting of nepotism.)
So who will staff this Gaza flotilla panel, and why can Ban move so much quicker in this case? Watch this site.
(For updates you can share with your friends, follow TNN on Facebook, Twitter and Google+)