Assert Eezham Tamil identity in international arena: Es Po

"The identity of Tamils in the island is not Sri Lankan. For over half a century the Sinhala chauvinists constantly staging devil dance tell that the identity belongs only to the Sinhalese. A Tamil who has ancestry in the island has no choice other than claiming for the identity Eezhath-thamizhan in the international arena. If that identity is not there he has neither face nor name," says veteran Eezham Tamil creative writer S. Ponnuthurai (Es Po), in writing a forward to a poetry collection a few months ago. Meanwhile, veteran academic Prof K Sivathamby in an interview to Frontline last month regretted that "we did not have a situation in which all our people could join as Sri Lankans", but added, " Now we realise… The Sinhalese people also should realise that we are part of the landscape, and Tamils also should realise that this is the only country where the Sinhalese live".
Professor Sivathamby who went to Chennai as one of the committee heads of the World Classical Tamil Conference, convened by Tamil Nadu Chief Minister M. Karunanidhi, gave an interview to Frontline of The Hindu group, in the July 17-30 issue.
In 2005, K. Sivathamby, the emeritus professor of the University of Jaffna, brought out a collection of articles titled "Being a Tamil and Sri Lankan."
Literary critic and social scientist Prof A. R. Venkatachalapathy, Writing a review in 2007 to a very valuable publication "The Evolution of an Ethnic Identity" by another well-known Eezham Tamil academic, Prof. K. Indrapala, hinted at the ineffectiveness of academic perspectives in delivering justice in the context of Sri Lanka.
"One can only speculate on the course of Sri Lanka's recent politics if such a non-sectarian and composite vision of history had been accepted by the post-colonial Sri Lankan state and had been incorporated in school textbooks and official history. […] Historians are at best conscience-keepers and alas, can scarcely undo the injustice done 'to the innocents who lost their lives as a direct consequence of misinterpretations of history' to whom this book is dedicated", Venkatachalapathy wrote.
Es Po, born in 1932 and has been writing since 1950s pioneering a unique genre, enjoys a special niche for him in the Tamil speaking world. Last December, he gave a forward to the poetry collection 'Thoddippoo' by a young Tamil diaspora poet Kavitha from Norway, in which he came hard on the political leadership of Tamil Nadu for sabotaging the cause of Eezham Tamils.
Full text of Es Po's forward follows: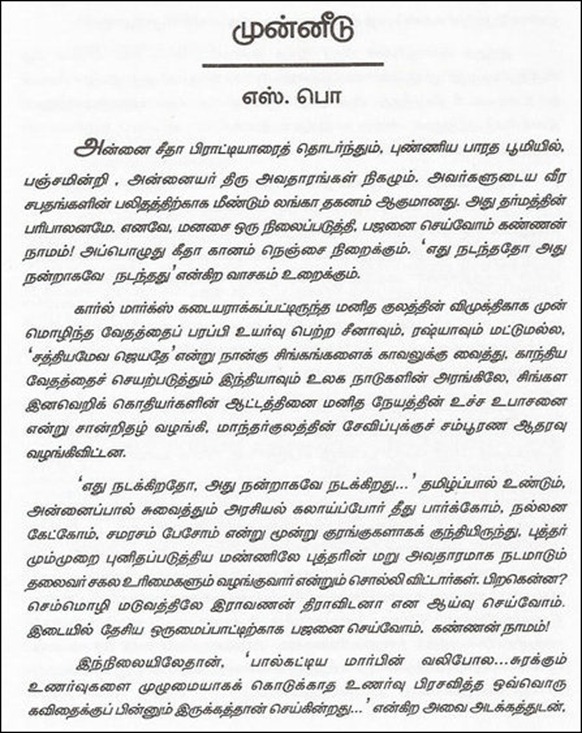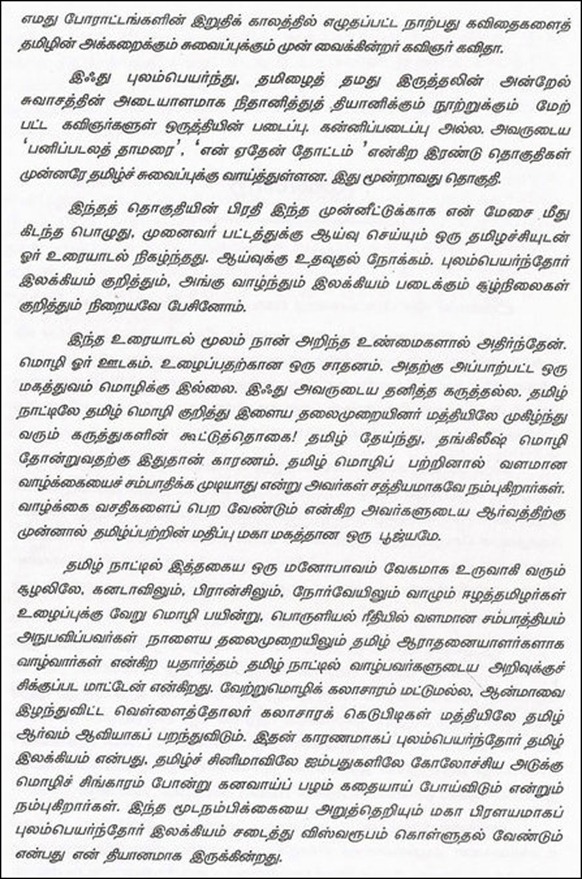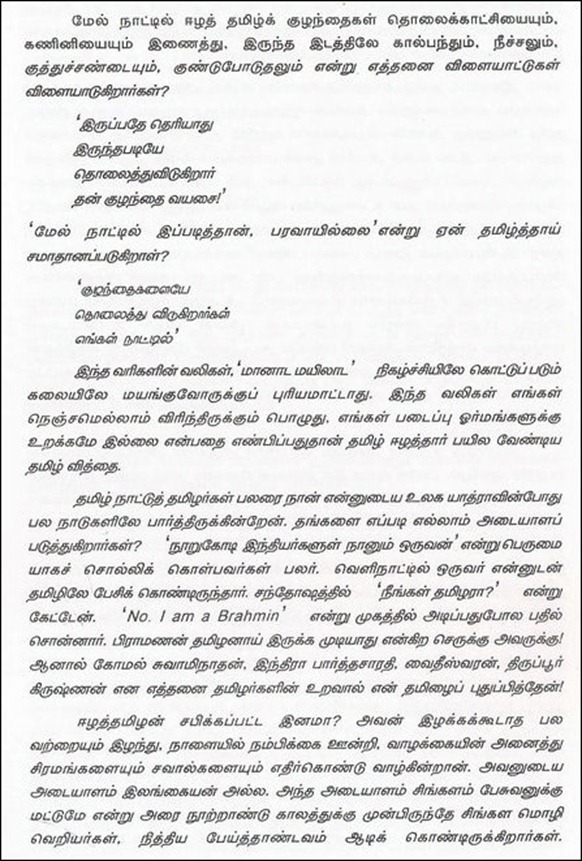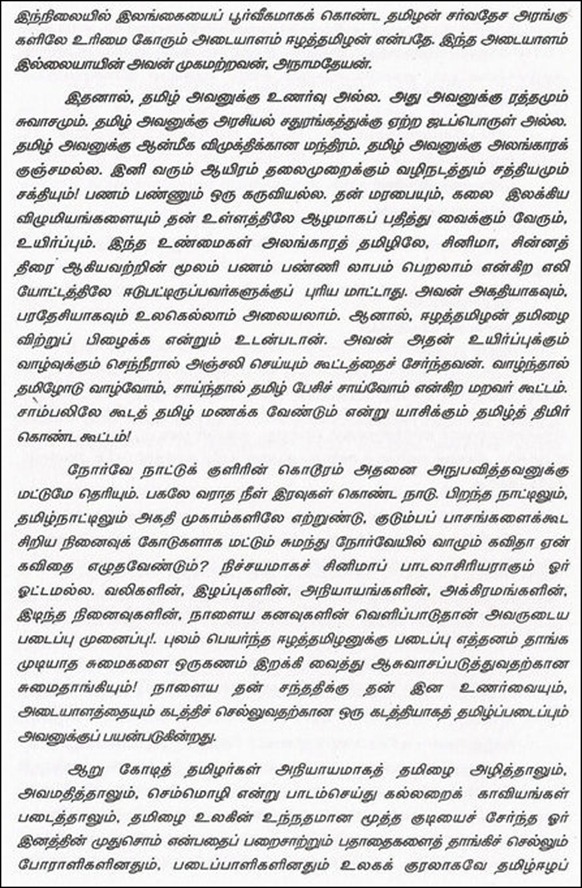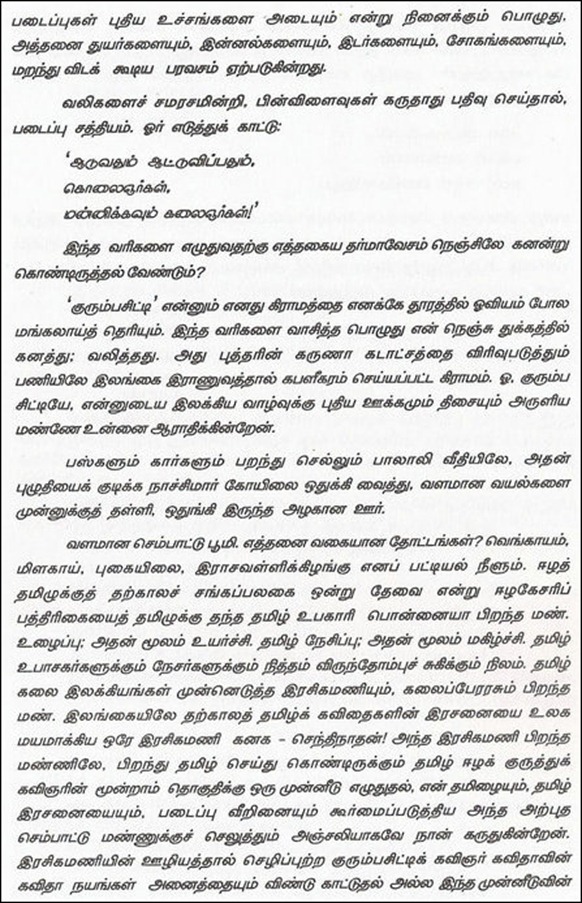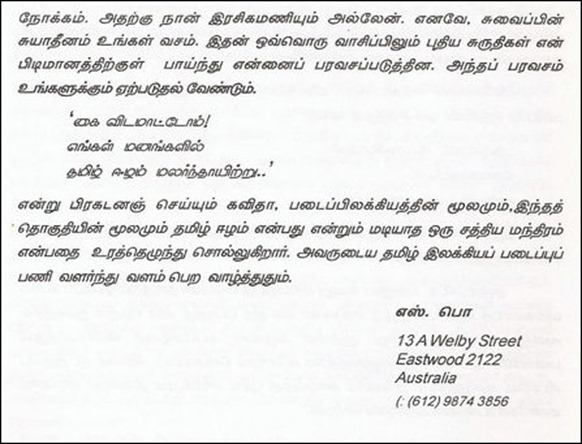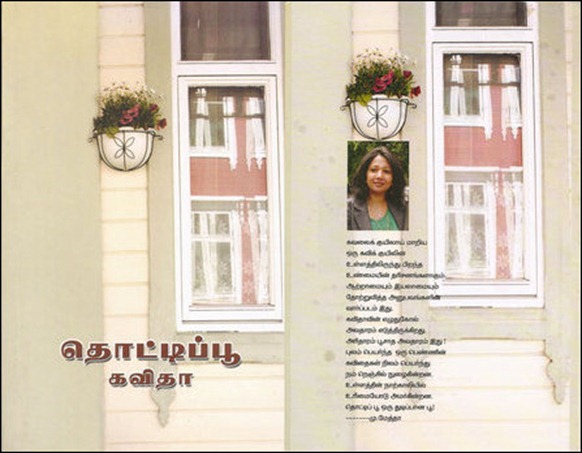 TamilNet: 02.08.10 Assert Eezham Tamil identity in international arena: Es Po
(For updates you can share with your friends, follow TNN on Facebook, Twitter and Google+)