At UN, Sri Lanka Panel Stalled on Staffing, Rajapaksa's RSVP for September, Rice and Kyrgyz Constrasts
The UN's panel of experts on Sri Lanka war crimes and accountability has still not officially begun its work. Why not?
  Inner City Press is told that the hang up is the staffing for the panel. It has been confirmed that the initial plan was for the chief of staff to be Jessica Neuwirth, close ally and friend of UN Human Rights Commissioner Navi Pillay.
But after reports alleging, at best, nepotism it was decided to switch to Richard Barrett, a staffer without similar connections. The fig leaf now is that Neuwirth's time on a UN system contract had expired — true, that was the reason to find her a new job — and that she is now a "consultant." With the UN or its Human Rights Commission? That's a separate inquiry.
On the panel itself, its four month time line does not begin until it is fully staffed. So are the three experts not yet working, then? If so, did they start getting paid by the UN when they met at the UN back in July or not? The hotel rooms — "at UN rates" — were certainly paid by the UN. So it is hard to argue they are not yet working for the UN.
On the UN's schedule for its upcoming General Debate in September, Mahinda Rajapaksa is listed as attending. If he does, this would be a perfect time for the panel to interview him. His embattled minister of external affairs G.L. Peiris has already said the panel will not get visa to visit Sri Lanka. So let Mahinda cooperate with the panel while he is in New York. If, that is, he comes to New York.
Outgoing Japanese Ambassador Yuki Takasu, when asked on July 27 by Inner City Press to describe innovations during his time in charge of the Security Council's working methods, listed the Council's informal basement meetings on Sri Lanka, in the final stages of the conflict.
  Given the level of civilian killing, it is still not clear what those meetings accomplished. But now even Japan, through foreign minister Okada, has urged Sri Lanka to cooperate with the UN panel. Will it?
Later on July 27 at Takasu's farewell reception at his residence, Sri Lanka's Permanent Representative worked the crowd, including his U.S. counterpart Susan Rice. Ambassador Rice has claimed, contrary to her State Department colleague on Sudan Scott Gration, that accountability for war crimes is at the top of the Administration's agenda. Sri Lanka is a test.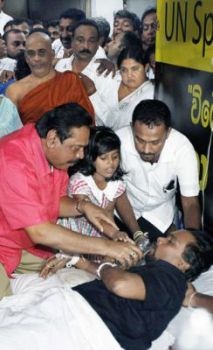 Mahinda and Wimal Weerawansa, UN in September not shown
The approach not only of Ambassador Rice and Ban Ki-moon but others to this mere Sri Lanka panel stands in contrast to the unequivocal way the UN says it will participate in any independent international investigation into the causes of the recent violence in Southern Kyrgyzstan. From last week's UN transcripts, first of July 26:
Inner City Press: On Kyrgyzstan, the OSCE [Organization for Security and Cooperation in Europe] Parliamentary Assembly Special Representative, Kimo Kiljunen, he said there's going to be an investigation conducted by his organ… by a commission, international commission, of the violence in southern Kyrgyzstan. And he also said that the United Nations would be involved in the commission. So, I wanted to know, is that the case? What will be the United Nations role in an international investigation of the causes of violence in southern Kyrgyzstan?

Spokesperson Martin Nesirky: Let me find out. Just a general point, the OSCE Parliamentary Assembly is not the same thing as the OSCE itself, as I'm sure you understand. So we would need to see precisely what the composition, the intended composition, would be. But the other more general point is that we've said already that there should be an independent investigation into the events that took place in Osh and Jalalabad and in the south of Kyrgyzstan. So let me get back to you on that, okay?
Having heard nothing back, Inner City Press asked again on July 30:
Inner City Press: you'd said you would find out, and I wanted to ask whether you have. One is, what is the UN's role in any possible investigation into the causes of violence in southern Kyrgyzstan?

Spokesperson Martin Nesirky: As I mentioned to you, that is a work in progress amongst different international organizations. It is being actively looked at, and I know that my colleagues in the Department of Political Affairs are keeping a close eye and talking to their colleagues, as is Mr. Jenca, the Special Representative for Central Asia, Miroslav Jenca. No firm words yet. But, as I've said to you before, this is an area where we have been very closely watching. And not just watching, but involved in bringing people together, monitoring and reporting what's been happening…
And on Sri Lanka?
(For updates you can share with your friends, follow TNN on Facebook, Twitter and Google+)