SLA exploits Chinese funds meant for resettlement of uprooted Vanni civilians
Sri Lanka Army (SLA) occupying Vanni is exploiting funds donated by China for the resettlement of uprooted Vanni people to construct permanent housing schemes for its personnel, in Kokkaavil, located west of A9 road in Vanni, civil society organizations in K'linochchi said. Uprooted civilians forcibly taken by SLA soldiers to work in the constructions said that even two storey buildings are under construction in an area where new roads have been laid. Meanwhile, around 3,000 uprooted families, brought to be resettled in Vanni by Sri Lanka government, continue to live under trees left abandoned while Sri Lanka government exploits international assistance meant for them to settle Sinhalese families from South, Suresh Premachandran, Tamil National Alliance (TNA) parliamentarian said.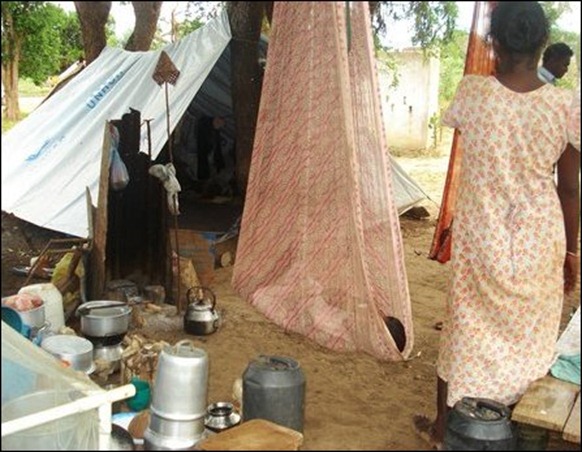 SLA has already built at least 5,000 prefabricated houses for its personnel in Mu'ruka'ndi area, east of A9 road in Mullaiththeevu district in Vanni, with foreign funds meant for resettling the uprooted Vanni people, the MP said.
Suresh Premachandran added that the above housing settlements are part of Sri Lanka government's scheme to Sinhalicize the traditional Tamil homeland in the North.
The new SLA housing scheme with special quarters for its officers is constructed in Kokkaavil area where Sri Lanka government TV, Rupavahini transmission tower is located.
(For updates you can share with your friends, follow TNN on Facebook, Twitter and Google+)