British PR firm whitewashing Sri Lanka's reputation – report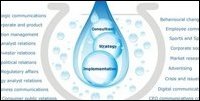 British public relations firm Bell Pottinger Sans Frontiers is working for the Sri Lankan government to improve Colombo's international image, in the wake of its mass killings of Tamil civilians last year and ongoing rights abuses, The Guardian newspaper said this week in an investigative report into UK firms' role in 'reputation laundering' for unsavoury regimes and leaders. "An investigation by the Guardian has revealed that [London's] public relations firms are earning millions of pounds a year promoting foreign regimes with some of the world's worst human rights records, including Saudi Arabia, Rwanda, Kazakhstan and Sri Lanka," the paper said.
"The doyen of this business is Lord Bell, the chairman of Chime Group, which runs Bell Pottinger."
Chime plc, headed by Lord Bell, Margaret Thatcher's former adviser, earned almost half of its £67m income last year from foreign contracts, up from 37% in 2008, the paper said.
"Autocratic governments are realising they need to be more sophisticated in the way they act rather than just telling people how it is," Francis Ingham, chief executive of the PRCA (Public Relations Consultants Association), told The Guardian.
Apart from Sri Lanka, Chime has also represented the Zambian government, which in May was accused by human rights organisations of harbouring Rwandan genocide suspects, the paper said.
"More and more PR firms are moving from representing companies to representing countries, whatever their records," said Paul Farrelly MP, a member of UK Parliament's culture, media and sport select committee.
"Any self-respecting professional should ask themselves [when taking on a client] if this is a regime they should be representing."
The British PR industry's voluntary code of conduct, drawn up by the PRCA, requires that "political consultants must advise clients where their activities may be illegal, unethical or contrary to professional practice, and to refuse to act for a client in pursuance of any such activity".
But some of the lucrative deals may breach the industry's voluntary code of conduct, drawn up by the PRCA, the paper said, in an extensive report.
In Bell Pottinger's case, the question doesn't arise: the firm has simply not signed up to the industry code.
The paper said Lord Bell's position on the ethics of which contracts to take is simple: "I wouldn't do anything I would do a bad job on."
Which is probably why Bell Pottinger declined when Omar Bashir, the president of Sudan, already wanted by the international criminal court on suspicion of crimes against humanity relating to the Darfur genocide, approached it and another firm, via representatives, asking for their help in managing his image.
"I am not an international ethics body," Lord Bell added. "We do communications work."
(For updates you can share with your friends, follow TNN on Facebook, Twitter and Google+)