At UN, Ban "Melts Down, Admits" Dealing An OIOS Post to a South African, Calls Ethics Questions Small, 2d Term in Play
"I always do the right thing," UN Secretary General Ban Ki-moon said Monday, faced with long pending questions about mis-management and undermining the independence of the UN Office of Internal Oversight Services.
But Ban appeared to admit violating a founding principle of OIOS, that the Secretary General not intrude and give out top OIOS jobs on a political basis.
  He was asked repeatedly to confirm or deny that he promised the second level OIOS post to a South African, to gain support for his appointment of a Canadian, Ms. Lapointe Young, to replace outgoing Inga Britt Ahlenius. (Inner City Press was the first to report this deal, here.)
At first Ban suggested these questions be dealt with in a separate session. Then he portrayed them as "small" questions. Many reporters were unclear if they were being directed to not get into "personal" or "personnel" questions.
The latter seems difficult, since Ban ultimately said he had personally taken the personnel decision to give the second OIOS post, even before the ostensibly independent new director comes in, to a South African candidate.
Many correspondents were frustrated at how the press conference was run, with no questions taken on Sudan — which is threatening to throw the UN out, while starving the residents of the Kalma Camp — or the Rwanda election or the Ban administrations flip-flip on Kashmir.
But even those most focused on UN management and Ms. Ahlenius' damning End of Assignment Report were dissatisfied by Ban's answer that any questioning of his administration's ethics is unfair. There are a range of questions, including about Ban's most senior advisers. These, they say, will be coming out as a second term for Ban is considered.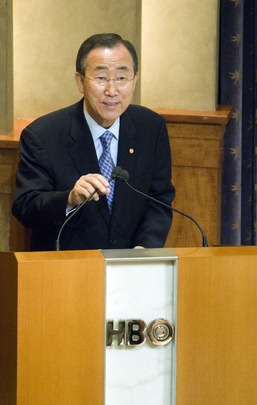 UN's Ban pre melt down, post deals not shown
Ban was asked about his Gaza flotilla panel — he said no side agreement was made with Israel not to interview its soldiers — but not about his stalled and even most constrained panel on Sri Lanka war crimes.
He was asked about appointing Alvaro Uribe to the Gaza panel, despite Venezuela's recent complaints. Ban said he has known Uribe as Secretary General for a long time, and that Uribe has his "full confidence." What will Venezuela, the next head of the Group of 77 and China, say?
As one snarky correspondent said after what he called Ban's "melt down," this politically is the time when alternate candidates to become Secretary General in 2012 will begin to appear, even before the upcoming General Debate in mid September. Watch this site.
Footnote: even on the ostensible topic of Ban's first press conference since the Ahlenius memo, the High Level Panel on Global Sustainability, lack of candor became apparent. When, after his loss of power in Australia, Kevin Rudd flew to New York and met with Ban, Inner City Press attended the photo op, and noted that Ban's climate advisor Janos Pasztor was in attendance, and that the meeting lasted a full 50 minutes.
Inner City Press asked Ban's spokesperson if the meeting involved the offering of a UN position of any kind. It was just a courtesy call, Inner City Press was repeatedly told — even after Rudd, back in Australia, bragged through his spokesman about the offer of a post.
At the end of Ban's press conference, Inner City Press asked Pasztor if in the meeting with Rudd, the supposed courtesy call, this post was discussed. Yes, Pasztor said. Some courtesy call. The same snarky reporter laughed at the inclusion of US Ambassador Susan Rice on the panel, calling it a craven attempt to nail down US support for a second term as Secretary General. We'll see.
Update of 12:41 pm: after publication of the above, UN Spokesperson – Do Not Reply sent this:
Subject: UN Spokesperson's clarification regarding the Office of Internal Oversight Services
Date: Mon, Aug 9, 2010 at 12:34 PM
The Secretary-General wants to make it absolutely clear that the recruitment process for the Director of the Investigations Division will start only after the new Under-Secretary-General of the Office of Internal Oversight Services has taken up her post. This selection will be conducted strictly in accordance with the established rules and procedures. The assertion that a South African was offered the job is completely unfounded.
(For updates you can share with your friends, follow TNN on Facebook, Twitter and Google+)