At UN, R2P Re-Argued Amid Ban Ki-moon Silence on Sri Lanka and Sudan Starvation of IDPs, Kyrgyz Sidestep
On a day that UN Secretary General Ban Ki-moon spoke about the Kalma Camp in Darfur, but not the Sudanese government's starvation of its residents, Ban's advisers on genocide and Responsibility to Protect (R2P) fielded questions from largely skeptical member states.
In the final hour of debate, Nicaragua and Venezuela trashed the concept of R2P. China and, to the surprise of some, Georgia stressed that R2P should be narrowly read.
South Korea, typically, used its time to "commend the Secretary General," its former minister of foreign affairs and trade. Ghana supported R2P, reminding other members that the concept of sovereignty might had defended apartheid.
Non governmental organizations were given six minutes at the end. On the sidelines, an NGO expert told Inner City Press that while the session was to have focused on "Pillar One," early assessment and warning, it had degenerated to a referendum on R2P itself, with even supporters going off topic.
The last President of the General Assembly, Nicaragua's D'Escoto Brockman, was a major R2P skeptic who appointed India's then outgoing Permanent Representative to undermine the concept. Now there's talk of a joint office, of confidence building with member states.
But where were Ban's advisers Francis Deng and Edward Luck when tens of thousand civilians were slaughtered in Sri Lanka? Cautious comments were made, the media was avoided. In the end, little to nothing was done. Now while there's a panel, it will only offered advice on "modalities." Neither Ban nor his advisers have opposed Sri Lanka's decision to deny visas to the panel.
Sri Lanka's seat in this General Assembly session was empty. Not only is there not yet a Responsibility to Protect — there is not even a Responsibility to Participate.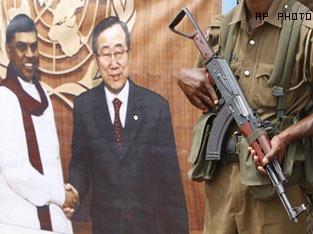 UN's Ban portrayed by Sri Lanka, objections not shown
When ethnic Uzbeks in southern Kyrgyzstan were targeted, where was the UN? Despite government involvement, that very government, headed by a former UN staff member, is the UN's main interlocutor.
(For updates you can share with your friends, follow TNN on Facebook, Twitter and Google+)