Sri Lanka launches war crimes panel, rejects U.N. probe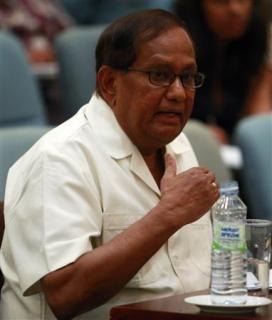 Sri Lanka vowed on Wednesday to investigate the conduct of the war against Tamil separatists, but critics dismissed the inquiry as a whitewash after authorities rejected an international probe into possible war crimes.
The Commission on Lessons Learnt and Reconciliation, appointed by President Mahinda Rajapaksa, held its first sitting, focusing on the final phase of the 25-year conflict, leading to the surrender of the Tamil Tigers in May 2009.
Sri Lanka's war against the Tigers repeatedly prompted accusations of human rights violations. Allegations that thousands of civilians died just before the war ended amplified that criticism.
Rajapaksa rejected an independent probe requested by Western countries and appointed his own panel with the stated aim of preventing any future ethnic conflict.
"If there is material that emerges in the cause of evidence about war crimes had been committed, we will look into those," the head of the commission, former Attorney General C.R. De Silva, told Reuters.
"If there are violations, we will have to identify and recommend investigations by the authorities who are involved in the dispensation of criminal justice."
The commission is expected to visit the areas involved in the conflict in the north of the country this weekend to gather evidence from affected Tamils. Defense Secretary Gotabaya Rajapaksa, the president's brother, is due to testify later this month, one of several state officials and politicians.
Analysts have criticized previous investigations by local officials, citing flimsy evidence. Some say witnesses due to testify to this commission may fear the consequences of appearing before it or stay away from it on grounds of bias.
"The whole commission is eye wash as it is appointed by the President and is made up of his own favorites," said Kusal Perera, a political analyst at Center for Social Democracy.
"If Rajapaksa had appointed it in consultation with the parliament, then we could trust it to some extent."
Sri Lanka has criticized as a violation of its sovereignty a U.N. war crimes panel, appointed as to advise Secretary General Ban Ki-moon on "accountability issues" and accuses the West of applying double standards.
The island nation will lose a trade concession worth $150 million per year from the European Union from next week on grounds of rights violations.
(For updates you can share with your friends, follow TNN on Facebook, Twitter and Google+)