Sri Lanka's Commission convenes as US calls for independent investigations
As the Commission on Lessons Learnt and Reconciliation appointed by Sri Lanka's President Mahinda Rajapaksa commenced its inaugural sittings on Wednesday morning at the Lakshman Kadirgamar Institute for International Relations and Strategic Studies, No 24, Horton place, Colombo, 58 law makers of United States Congress urged the Obama administration to push for an independent international investigation into alleged war crimes that occurred during Sri Lanka's civil war. "The letter to US Secretary of State Hillary Rodham Clinton, the members of Congress called for such a probe saying panels set up by the Sri Lankan government to probe the allegations "lacked the needed credibility,"" AFP reported.
The Sri Lanka commission in a statement announced that Public sittings are scheduled to be held from the 11th to the 25th of August 2010 with two public sittings scheduled to be held in Vavuniya on August 14th and 15th. Rajapaksa under Section 2 of the Commission of Inquiry Act, appointed the eight member Commission to report on the lessons to be learnt from the events in the period, Feb 2002 to May 2009.
Sri Lanka Commission's mandate was carefully drafted to avoid investigating widespread allegations of war-crimes committed by both protagonists of the conflict.
The Commission chaired by C. R. De Silva PC has also been charged with reporting on measures to be taken to prevent the recurrence of such concerns in the future and promote further national unity and reconciliation among all communities.
United Nation's Special Rapporteur on Extra-judicial Executions, Philip Alston, earlier dismissed Sri Lanka's local commission as ineffective without a mandate to probe war crimes, questioned the independence of the same commission pointing to the past dismal performance of its Chairman, C.R. de Silva, and cautioned that "detailed and deeply troubling allegations won't magically disappear."
The Commission has called on members of the public who wish to make submissions to it to contact the Commission via telephone or by writing.
Congresspersons letter to Clinton criticized Sri Lanka's panels for lacking credibility saying, "[t]hese panels have also delayed criminal investigations and in several instances members of these commissions have resigned in protest at the government's interference," citing Amnesty International.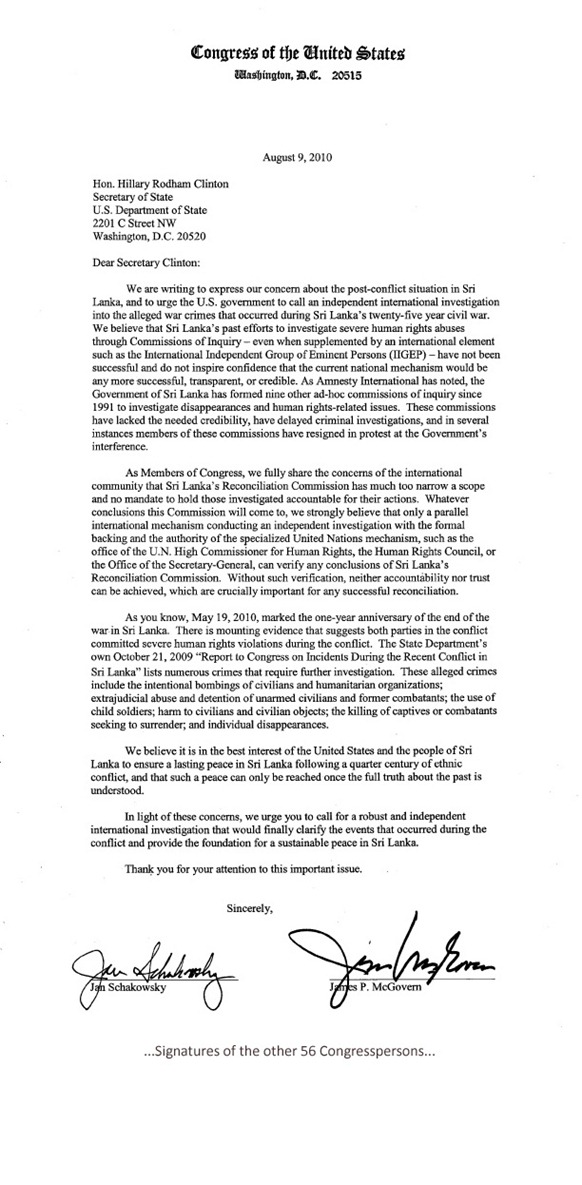 (For updates you can share with your friends, follow TNN on Facebook, Twitter and Google+)