Canada boards ship with hundreds of Sri Lankans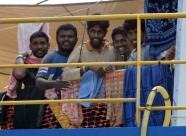 The Canadian navy has intercepted a cargo ship carrying almost 500 Sri Lankan asylum seekers and prepared to screen them, fearing some belonged to the defeated and banned Tamil Tiger rebels.
After days of tracking by Canadian and US authorities, Canadian Forces and Canada Border Services Agency personnel boarded the MV Sun Sea after it appeared to veer from its expected destination in the Vancouver area Thursday.
The frigate HMCS Winnipeg "attempted to hail the Sun Sea several times and, after establishing communications, the vessel declared that it had refugees on board," Public Safety Minister Vic Toews said, public broadcaster CBC reported.
The Thai-flagged ship's skipper said that around 490 refugees were on board, but Canadian authorities are unsure of their identities, Toews said.
Some of the people on the ship are "suspected human smugglers and terrorists," Toews said.
Toews pledged that Canada would prosecute anyone involved in human trafficking, which he denounced as a "despicable crime."
Canada and other Western nations have been critical of Sri Lanka's human rights record but consider the Tamil Tigers, known for their suicide bombings and child soldiers, to be a terrorist organization.
The Sri Lankan military crushed the Tigers in a bloody campaign last year, ending a 37-year civil war but triggering concerns abroad over alleged human rights abuses.
Canada has among the world's most welcoming asylum policies and has a politically active Tamil community, which urged their adopted country to grant asylum to the boat people.
In a similar incident in October 2009, 76 Tamil refugees arrived on a ship to Canada where they were held but eventually released after none were determined to belong to the Tamil Tigers.
"We are optimistic that the Canadian government will do the same thing again," said spokeswoman Manjula Selvarajah of the Canadian Tamil Congress.
"The idea of security, it's very important to us as well. We are Canadian as well."
Selvarajah hinted that the accusations of Tamil Tiger links came from the Sri Lankan government.
Sri Lankan High Commissioner Chitranganee Wagiswara — the equivalent of an ambassador among Commonwealth nations — told the CBC that the ship was a "human smuggling operation managed by the Liberation Tigers of Tamil Eelam."
In Washington, State Department spokesman Mark Toner said that US authorities had monitored the ship to prepare for any emergency. Media reports said the ship headed across the Pacific after being dissuaded by Australia.
Tents were set up to accommodate the Sri Lankans once they dock near a naval base on Vancouver Island, which lies off mainland British Colombia.
A vacant emergency ward has been set aside in Victoria General Hospital for "triage, screening and diagnostics," hospital spokeswoman Shannon Marshall told AFP.
Healthy migrants will be released back to federal authorities, said Marshall, "while those who require further care will be admitted to an area of the hospital that will be kept separate from the general population."
Local officials said that two jails near the city of Vancouver had prepared space for the expected arrivals.
The Tamil Tigers are banned around the Western world and India as a terrorist organization. The rebels were notorious for suicide bombings and the use of child soldiers.
But human rights groups have also accused the government of deliberately shelling Tamil civilians in the last four months of fighting, during which the United Nations says that at least 7,000 non-combatants were killed.
Up to 100,000 people were killed in Sri Lanka's decades-long separatist war, and some 300,000 Tamils civilians were held in internment camps when the fighting ended in May last year and thousands are still unable to return home.
Sri Lanka has repeatedly rejected a United Nations probe into alleged rights abuses.
A Sri Lankan government-appointed panel on Wednesday began a probe into the final stages of the conflict, but rights bodies and lawmakers in the United States accused it of lacking credibility.
Media reports originating in Colombo, Sri Lanka's capital, said the ship headed for Canada after being turned back from Australia, and that several other ships full of refugees are also on their way.
AFP: Canada boards ship with hundreds of Sri Lankans
(For updates you can share with your friends, follow TNN on Facebook, Twitter and Google+)