S.Lanka strips former war-hero of pension and prestige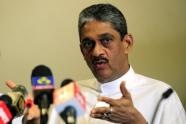 Sri Lanka's president has formally stripped former army chief Sarath Fonseka of his rank, medals and pension after his conviction by a court martial, officials said Saturday.
President Mahinda Rajapakse ratified Friday's verdict of the controversial tribunal, which found Fonseka guilty of dabbling in politics while heading the military last year.
"The president as commander-in-chief of the armed forces has today confirmed the findings and the punishment handed down by the court martial," a military source said, asking not to be named.
Under the decree signed by Rajapakse, Fonseka, 59, lost all medals and honours he received during his 40-year military career and also lost his government pension and the right to use the title of "General."
As the battlefield architect of the military victory over Tamil Tiger rebels in May last year, Fonseka had seemingly secured his legacy as the commander who crushed the 37-year insurgency for an independent Tamil homeland.
In May last year, he was given a special honour for defeating the rebels.
But his bid to translate that military success into political power proved to be his undoing. He failed to unseat his former ally, President Rajapakse, at January elections and was arrested two weeks later.
Fonseka's hearing before a three-member tribunal began five months ago despite protests from his party and human rights groups that the process was seriously flawed.
Fonseka was accused of trying to secure a place in a political party following talks with an opposition MP between October and November last year, just before he quit as Chief of Defence Staff.
Although Friday's ruling carried no prison term, Fonseka will still remain in military custody.
A separate court martial is still hearing charges that he engaged in corrupt deals. He also faces civilian charges of employing army deserters, an offence that carries a 20-year jail term.
Despite being in military custody, he managed to win a seat in parliament in April.
(For updates you can share with your friends, follow TNN on Facebook, Twitter and Google+)