Sri Lankan exporters brace for loss of EU tax breaks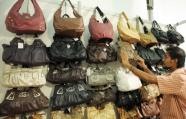 Sri Lankan exporters braced for hard times as the EU's withdrawal of import concessions took effect Sunday after Colombo's refusal to allow scrutiny of its human rights record.
Sri Lanka has long been a preferred source for top high streets brands and its garment, china and other exports enjoyed lower European Union tariffs under a concession known as the Generalised System of Preference Plus (GSP+).
But when the concession came up for renewal last year, Sri Lanka's hawkish government refused EU demands for a probe into war crimes allegedly committed in 2009 during the last months of the country's ethnic civil war.
"We are heading into difficult, uncertain times with the end to the concessions," Sunil Wijesinghe, who heads Japanese-owned Dankotuwa Porcelain in the village of Dankotuwa, north of Colombo, told AFP.
Business executives said they understood EU concerns, but warned that cancelling tax breaks that gave Sri Lanka preferential access to the vast European market in return for commitments on social and rights issues would achieve little.
If the EU's objective is to improve human rights, the withdrawal of tax breaks "is not going to make it better. If at all, it will make it worse," Wijesinghe said.
Industry bodies estimate the EU trade concessions were worth 1.5 billion dollars annually, even as Colombo played down the impact of the loss, estimating it at 150 million dollars.
The loss of the concessions comes as Sri Lankan exporters are already reeling from a weak recovery in Western markets.
Dankotuwa Porcelain has suffered a 25 percent drop in orders as Europe has been mired in an economic downturn and the loss of tax breaks is a further blow, Wijesinghe said.
He said the company had stripped overheads to a minimum, with cuts in overtime and an end to subsidised loans, free food, shoes, picnics, year-end parties and free school supplies for employees' children.
The fear on the factory floor is that jobs could be the next to go.
"If the company collapses, we are not qualified enough to get another job," said factory worker Neetha Rajani.
But companies say withdrawing GSP+ will hurt most Sri Lanka's apparel industry, which is the country's biggest industrial export sector and employs over a million people in 250 factories clustered around the capital Colombo.
"We will lose around 500 million dollars from our annual earnings of just under three billion dollars," said Rohan Masakorale, secretary general of the Joint Apparel Association Forum (JAAF), an industry body.
JAAF says some European buyers may pick up the extra 10 percent in taxes or share it with local manufacturers, but others may shift their business to rival countries.
"Some factories (in Sri Lanka) may close, there will be more consolidation going forward," Masakorale told AFP.
Currently 45 percent of garments are shipped to US buyers like Victoria's Secret and Masakorale says the forum is pressing the government to strike new trade deals with Japan, Australia, Brazil and Russia.
"We are looking at different markets and trying not to depend on the EU. Even a five-percent increase in other markets would help," Masakorale said.
The withdrawal of the EU tax concessions comes at a time when exporters are suffering from thin profit margins.
Apparel makers' costs have gone up by 10-12 percent over the past year, said A. Sukumaran, who heads one of Sri Lanka's biggest apparel manufacturer's, Star Garments.
"We're already working on thin margins. We're not able to reduce our costs any further as economic fundamentals are working against us," Sukumaran said.
AFP: Sri Lankan exporters brace for loss of EU tax breaks
(For updates you can share with your friends, follow TNN on Facebook, Twitter and Google+)