Still 'Mervyn way' reigns
By Rathindra Kuruwita
Anyone who is familiar with police drama or movies will be aware of a law enforcement investigatory technique called playing good cop/bad cop.
In real life, this technique is also being frequently used by two politicians to deliver unpopular opinions or news and/or gain public support. When one looks at it closely, removing Deputy Minster of Highways, Mervyn Silva from his ministerial post and Sri Lanka Freedom Party membership until a special commission investigates, and Mervyn Silva tying a Samurdhi officer to a tree is a classic example of the good cop/bad cop sequence.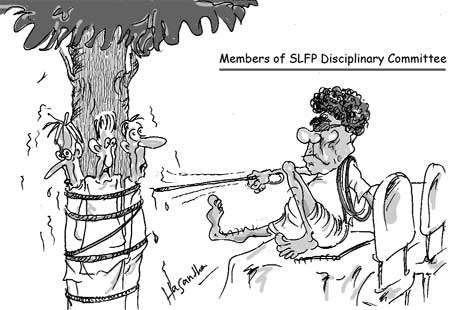 Mervyn still a blue-eyed boy
By this action, the government plays the good cop by appeasing the protesters demanding action be taken against the minister for tying a Samurdhi officer to a tree on August, 3. But allowing Mervyn Silva to roam about the countryside like a raging bull threatening Samurdhi officials is a constant reminder that the bad cop is still out there and will make a return in the coming future.
Just days after he was stripped off his ministerial position and his security removed, Mervyn Silva opened a newly constructed clock tower in Kiribathgoda while his security personnel — who we were told had been removed — blocked the Colombo-Kandy road creating a massive traffic jam. Speaking at the event, he threatened Samurdhi officers who 'embezzle' public funds and vowed to travel to all parts of the country fighting these corrupt officials.
He is also slotted to be there with the president when the Hambantota port basin is ceremonially filled with water today. Silva has even commissioned a popular tailor in Colombo this Wednesday, after he was punished by the president, to prepare a 'special satakaya' made out of 'rope like' material for this occasion. This has made a senior Minister commenting that if the president is angry with the Deputy Minister he certainly has a strange way of showing it.
Only a matter of time
Commenting on the unfolding Silva saga, Janatha Vimukthi Peramuna (JVP) General Secretary Tilvin Silva told LAKBIMAnEWS that the government is just trying to buy some time until the protests against the deputy minister die down and predicted that he will be reinstated soon after the disciplinary inquiry.
"The government does not care about the laws of the land. The President does not care even if he kills a government employee but the massive demonstrations which followed Mervyn's actions forced the government to take some sort of action. They did not expect this kind of a backlash and by temporarily removing the Minister from his post the government is trying to score some points. And we know all about these commissions; we saw what happened to the commission appointed to look into the election rigging in Nawalapitiya by Mahindananda Aluthgamage," he said.
The JVP General Secretary added that most of the Samurdhi corps are members or supporters of the ruling SLFP and that this was a main reason that prompted the government to take action. He added that Mervyn Silva had left a trail of violence and destruction behind him in the last few years and should have been prosecuted for criminal offences long ago.
"There are laws and the police should have arrested him when he tied the Samurdhi officer to a tree. People have to wait until the president gives an order to take action against a criminal. Does this mean, that it is the president who decides who should be punished and when that person should be punished? If this is the case, why are we having a police and a judicial service? Even now the police are not investigating the incident. The government says that his security has been removed but we saw that he had plenty of security officials when he was on hand to open the clock tower in Kiribathgoda. He also said he is sure that he will be back and everyone knows that he would be," he added.
Meanwhile, United National Party (UNP) MP Wijedasa Rajapaksha said that the police claim they cannot investigate the situation since no one has lodged a complaint — a shameless attempt to justify their cowardice. He added that this blatant disregard for the laws of the land will provide much needed ammunition for LTTE lobbyists who claim Sri Lanka is a barbaric land.
(For updates you can share with your friends, follow TNN on Facebook, Twitter and Google+)